You can probably understand my wife's concerns, when I told her that I planned to hike alone, in the backcountry, for days at a time. You probably have a spouse or others who would share similar concerns. So she was much happier when I told her I had a plan to stay in touch, and to get help if I had an emergency. The most important piece of that plan is my Delorme / Garmin inReach SE satellite tracker / communicator.
What is the inReach SE?
The Delorme (now Garmin) inReach SE is a rugged, portable satellite tracker and communicator. It communicates using short text messages, via the Iridium satellite network. Key capabilities include:
Location tracking (the ability to drop periodic "breadcrumbs" of your GPS location), publishing your track to the Garmin MapShare service so others can follow your progress.
2-way text communication with a Search-and-Rescue dispatch service in the event of an emergency, including your GPS location
2-way text messaging with other inReach devices, SMS-capable phones, and any email user
Basic and detailed weather forecasts for your location
Posting short updates to Facebook, Twitter, and the Garmin MapShare service
Bluetooth connection to your smartphone, so you can use it to compose and read messages, see your location and track on a map, and control other inReach functions
Long battery life, with the ability to operate for several days on a single charge (depending on usage)
The Iridium network uses a constellation of 66 active satellites, orbiting approximately 485 miles above the Earth. These satellites move across the sky pretty rapidly, with overlapping coverage areas. They have the ability to transfer communications to an adjacent satellite as one moves out of range and another comes into range. It's much like the cell phone network, except instead of you moving in a vehicle and the towers being stationary, you're relatively stationary and the satellites are moving.
A major advantage of Iridium is that, if you're in a location where you don't have line-of-sight to a satellite because of trees or buildings or terrain, just wait a few minutes and eventually a satellite will pass through an open "window" between you and the sky, and you can connect. This is what you want, if you're lying at the bottom of a ravine with a broken leg!
What the inReach SE is Not:
It's not a satellite phone. You can't talk on it. You can certainly talk to it, but that will only make you look crazy. It's a text-only device.
It's not a cell phone. Communications are not instantaneous, as they are with SMS on your phone. When you send a message, the unit has to acquire a satellite, then send the message over a relatively low bandwidth connection. The time to acquire a satellite can be seconds, if you have a clear view of the entire sky. If you're deep in the woods, it might take half an hour for a satellite to come into view and connect. Then the message is relayed from Garmin to the recipient. When they respond, Garmin sends their message via Iridium. It's queued up and waits until the next time your inReach connects to a satellite and looks for incoming messages. You can configure how often this happens, but it's often like 15 minutes. If you're actively messaging back-and-forth with someone, it will attempt to maintain a connection to the satellite to reduce latency. But it still takes maybe a minute or two per message. So imagine having a long back-and-forth text conversation with someone, with that kind of latency. It teaches you to be succinct, and patient.
It's not a full-featured GPS unit. The inReach SE uses the GPS satellite network to know where it is (and you can read your coordinates on it), it doesn't have GPS maps loaded. You CAN use the Garmin Earthmate app on your smartphone to get GPS capabilities, using the inReach for location data. But I have much better GPS apps on my iPhone that I use, when needed. I also now have a Garmin Fenix 5x   which has full GPS and navigation capabilities, on my wrist.
More about the inReach SE
The inReach SE was originally designed and produced by satellite communications company Delorme. It is in a pretty rugged, waterproof case, and has a simple push-button user interface (no touchscreen). If you haven't learned this yet, touch screens are pretty useless in the rain. So I'm glad the inReach SE doesn't have one. I wear it strapped to my backpack shoulder strap all the time, where I can reach it when I need it. If I go far without the pack (to fetch water, for example), I'll carry the inReach with me, just in case.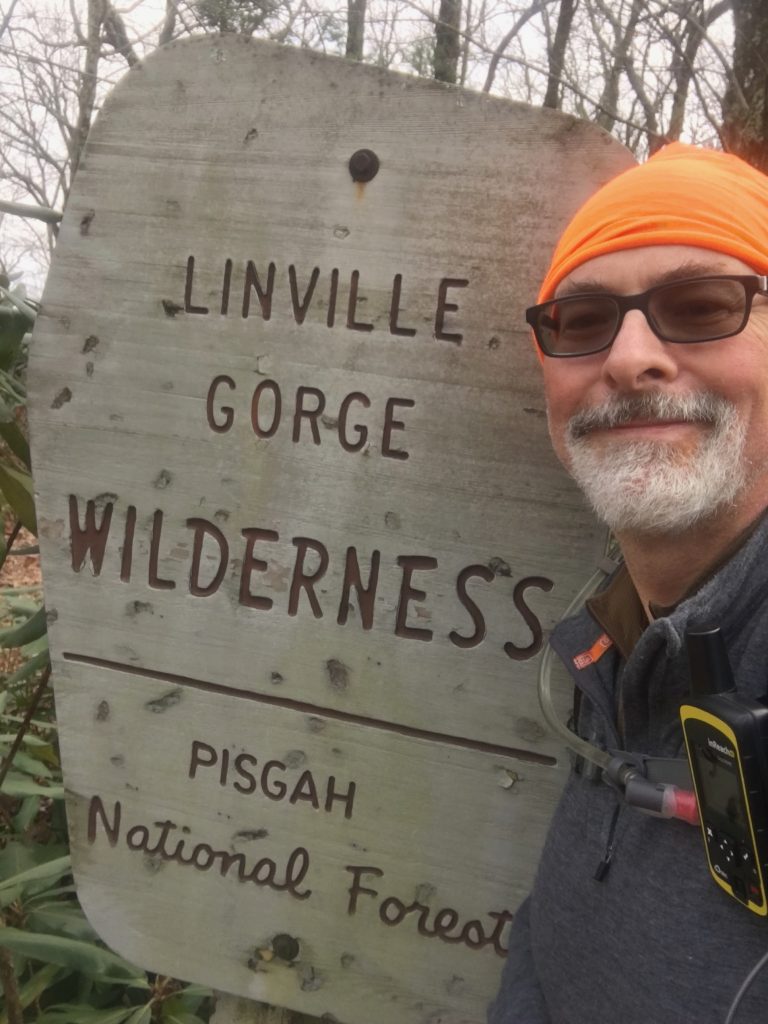 Delorme also sold a similar device, the inReach Explorer. The inReach Explorer has the same capabilities as the inReach SE, plus:
Digital compass
Barometric Altimeter
Accelerometer
Additional Memory
GPS Mapping and Navigation
While the compass and altimeter are nice to have, the primary reason you might choose the inReach Explorer is to get full GPS capabilities on the unit.
So why didn't I get the inReach Explorer?
It's about $50 more expensive
I'll always have another, better GPS capable device… my iPhone. The screen size and controls on the inReach are far inferior to the large touchscreen on the iPhone. Except in the rain, where the waterproof inReach GPS would have some advantages. Now, I have the Fenix 5x for those times. So I really don't need another GPS device.
Delorme was purchased by Garmin in 2016. In 2017, Garmin introduced updated units, the inReach SE+ and Explorer+. These new units have a slightly different form factor, with a larger display and improved controls. This would make the inReach Explorer+ more useful as a GPS. But the inReach SE+ is about $100 more than the inReach SE, and the Explorer+ is about $200 more! So I'm quite happy with the inReach SE.
Getting Help
The inReach SE has an "SOS" pushbutton, with a slide-lock to prevent accidental presses. If you unlock the SOS button, then press-and-hold the button for several seconds, it will activate SOS mode. This gives you a short time to cancel, then will automatically send an SOS message (with your location) to GEOS, a 24-by-7 Search-and-Rescue monitoring service. GEOS will attempt to reply via text, to confirm the emergency and get more details, if you're able to reply. If you don't, they assume you are incapacitated and will contact the nearest appropriate S&R service immediately, and manage the event until you are rescued.
Tracking Your Progress
With the inReach turned on, you can enable Tracking Mode. You can also configure the inReach SE to automatically start Tracking Mode every time you turn on the unit. When Tracking Mode is enabled, the inReach will record your GPS location at an interval you set (from 10 minutes to 1 hour) and attempt to post this data to your Garmin MapShare web page. If the inReach can't "see" an Iridium satellite immediately, it will queue up your tracking data until it's able to connect to a satellite, then will send all the queued location points. So satellite connectivity may delay updates, but it doesn't impact the accuracy of your track.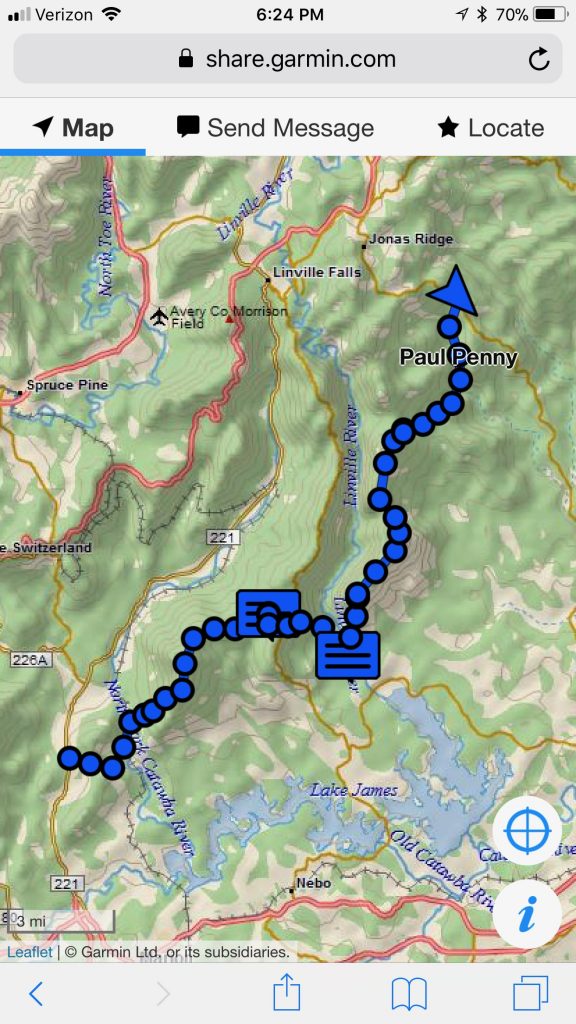 You can setup your MapShare account to enable access to your tracking map by anyone with the correct URL. You can also password secure your site, if you wish. I set mine up so anyone can see it, and I linked the MapShare URL to a personalize domain I own, at track.paulpenny.com. This way, all my followers can easily access my track when I'm backpacking or kayaking.
Staying In Touch
There are other devices that offer tracking and emergency rescue services. What really differentiates the inReach SE (and Explorer) are the 2-way text messaging capabilities. The inReach allows you to send 160 character text messages to other inReach users, and to any SMS-capable phone. Other inReach users can send messages directly to you using your inReach "address"; SMS phone users can reply to messages you send them.
I hike in lots of remote locations with no cellular telephone coverage. The inReach has been invaluable for letting my wife know everything is OK, making sure everything is OK back home, updating her when plans change, and for getting her help when I need to plan logistics on the trail.
You can setup three "preset" messages that you can easily send with just a couple of button presses. These are great for quick "checking in" types of messages. You can also setup "quick" messages with pre-loaded text that you can edit or add to. These are helpful, because entering text on the device is PAINFUL. The device has no keyboard and no touchscreen, so text entry is a hunt-and-peck exercise using the arrow keys. The unit does attempt to help using predictive text, but this still takes a ton of effort.
The best way to enter messages is with the Earthmate app on your smartphone. This allows you to compose, send, receive, read and reply to messages using the larger display and touchscreen keyboard on your phone. Much, much better… except in the rain, when I use the inReach as a standalone device.
Share With The World
You can also link your Garmin MapShare account to your Facebook and Twitter accounts. This enables you to post 160 character updates to Facebook, Twitter, or both. This has been a blast, on long backpacking trips. You can only post new updates with the inReach, you can't browse Facebook to see what you've posted or read any replies. But it's fun knowing my followers are getting updates from me in near-realtime, and it's great reading their replies and comments when I'm back online.
Battery Life and Durability
The inReach has great battery life, considering it's actually doing 2-way communication with satellites 500 miles away. Battery life is greatly impacted by how many messages you send and receive, and the frequency of your tracking point updates. If I use 10 minute tracking point updates, and send lots of messages (20+ per day), I need to recharge the unit every-other-day (I turn it off at night while sleeping). If I use 20 minute tracking updates and am more frugal with messages (10 or less daily), I can get 4-5 days on a single charge. The inReach SE has a 2450mAh battery, so it takes a bit less power to recharge than my iPhone 6 Plus. I carry one or two 10,000mAh power packs to recharge all my gear, when I'm off the grid.
The unit has been quite durable, except for the plastic screen, which I managed to scratch. It's not the unit's fault; I leave it on my pack when I throw the pack around camp, so it probably slid across a sharp rock at some point. Luckily, I'm good at wet sanding and polishing out such scratches, from my car detailing work. I'll probably put a screen protector on it.
Dollars and Sense
As I'm writing this, there are still some of the Delorme inReach SE units available. Street price is around $240. You can find them on Amazon. If you can't find an inReach SE, I'd recommend the inReach SE+, but it's about $350 on Amazon.
You can also find used units on eBay from time to time. There should be nothing wrong with buying a used unit, as long as the previous owner has un-registered it from their Garmin account.
To actually work, the inReach requires a Garmin service plan to access the Iridium network, contact GEOS S&R dispatch (if needed), and post via MapShare.
Garmin offers several different inReach subscriptions, ranging from $15 to $100 per month. Most hikers will want the $35 plan (which you need to enable tracking), or the $65 "unlimited" plan if you use messaging a lot. You can get about a 20% discount if you pay annually, but I recommend you do use the month-to-month "Freedom" plans, because you can suspend these plans at any time, and only pay to reactivate the service, a month at a time, when you need it. I don't carry the inReach when I'm day hiking in areas with cell service; I only use it for backcountry backpacking. So some months I don't need it. I can easily turn on service in a few minutes on the Garmin portal.
I also recommend you purchase the optional GEOS Search-and-Rescue benefit ("insurance," but they can't call it that for some reason). For $17/year, this will pay for any Search-and-Rescue costs you incur, up to $50,000. If you're ever in the backcountry and require a helicopter ride to get out, you will get a bill for many thousands of dollars, so this is cheap insurance.
The inReach SE device and service aren't cheap… but to me it's a worthwhile investment in my own safety, and in my family's peace-of-mind. And it's much less lonely in the backcountry, when you can chat a bit with a friend or loved one every day. I won't go into the backcountry without my inReach SE!
***
If you choose to purchase any of the products I review, I'd appreciate you using the links on this site. It won't cost you anything extra, but I'll earn a small affiliate marketing commission to help cover the cost of running this site. I only recommend products I actually use and believe will be of value to my readers!