Who needs a full-featured GPS-in-a-watch? Not many people, probably. But if you're a backcountry backpacker, such a thing could come in handy. I recently found a too-good-to-pass-up deal on a brand new Garmin Fenix 5x. This device that had been on my "would love to have but is too expensive" list was suddenly attached to my arm! Here are my first impressions, after playing around with it for several days, and using it on one short day hike.
There are many in-depth evaluations and reviews of the Garmin Fenix 5x, that cover the setup and features of the device. I encourage you to find those, if you're interested in more details. The purpose of this post is to share my first impressions after using the device for several days. I'll follow up later, after my first backcountry trip with the Fenix 5x.
What is the Garmin Fenix 5x?
The Fenix 5x is Garmin's top-of-the-line GPS fitness watch. And it's ridiculously expensive; MSRP is $649, and street price is about $600. In addition to the basic fitness watch features and GPS tracking shared by other Garmin watches, the Fenix 5x also has full-featured navigation, including maps and points-of-interest, right on the device. It's a very impressive piece of gear. It's designed to be quite rugged, with reinforced composite body, black stainless steel bezel and back, a heavy duty silicone band, and a scratch-resistant sapphire crystal. It weighs about 100 grams, is 2″ across and about 18mm thick. I thought it would feel quite large and heavy, but it's surprisingly comfortable to wear. I really never want to take it off!
Why would you want a Garmin Fenix 5x?
The Garmin Fenix 5x can certainly be used for running. But Garmin makes a variety of smaller, lighter, less expensive watches that are probably a better fit for most runners. Where the Fenix 5x really shines is for what I think of as "adventure" users. Ultra-marathon trail runners, backpackers, road cyclists, river and open-water sea kayakers, long-distance mountain bikers, and others can really appreciate the Fenix 5x advanced mapping and navigation features.
The Garmin Fenix 5x comes pre-loaded with 100k resolution topographic maps of the United States (or other regions where you may purchase it), as well as cycling and street maps. It has a large database of Points-of-Interest (POIs), enabling you to search for, say, the nearest Taco Bell. And it has full navigation capabilities, with the ability to calculate routes and track your progress.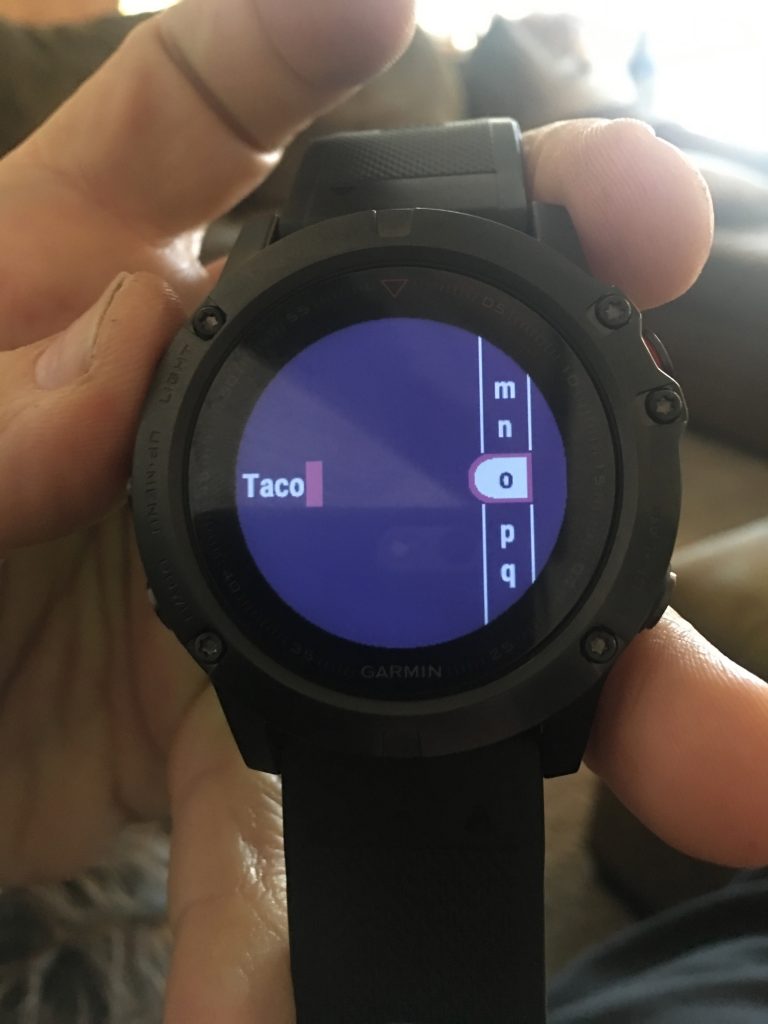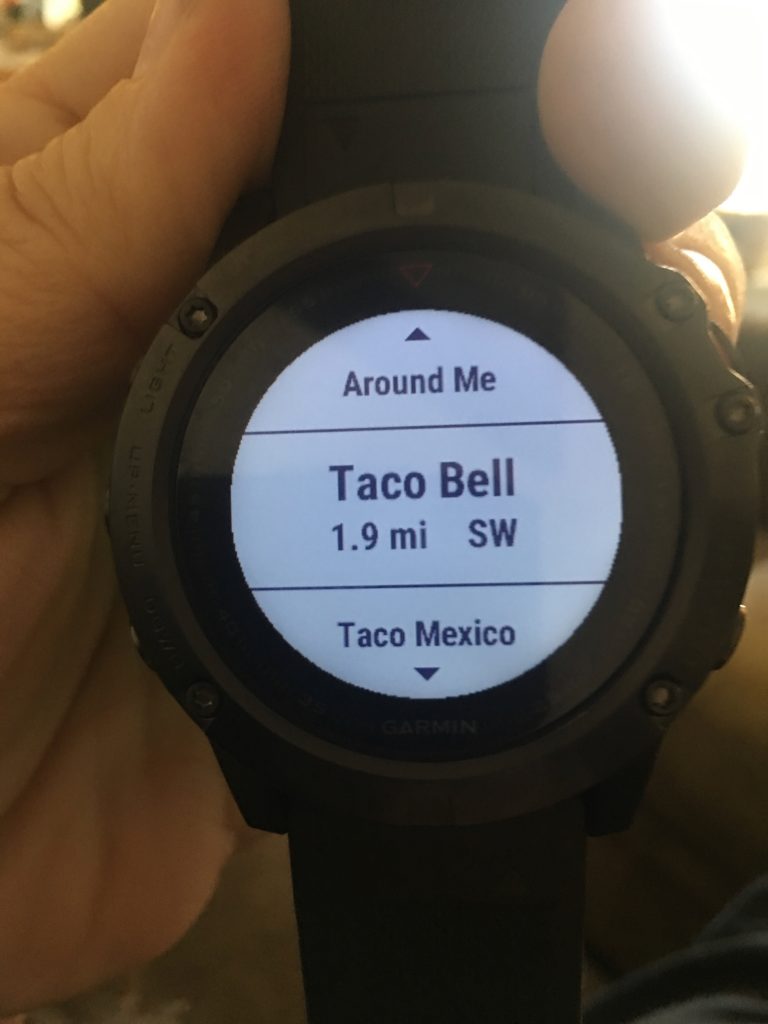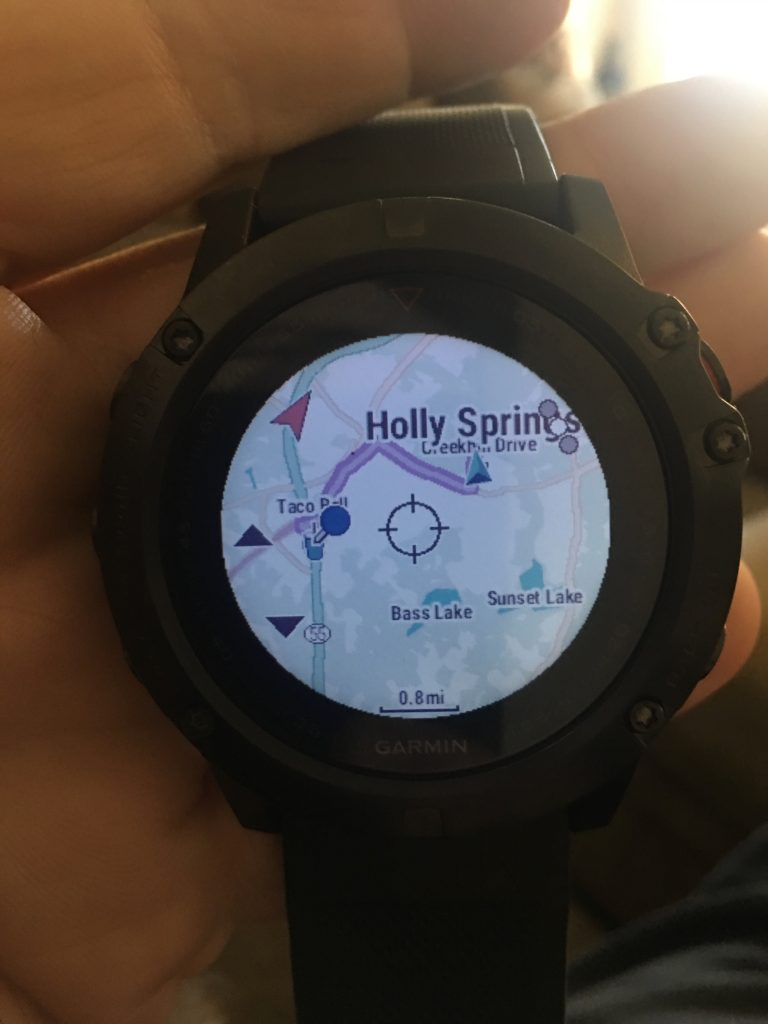 But the most compelling capabilities of the Fenix 5x, for me, are the abilities to load other high-resolution (24k) topographic maps, the ability to load previously defined routes via GPX files, the ability to keep you on course, and help you find your way back when you go astray.
Garmin Fenix 5x: My Setup and Mods
The Garmin Fenix 5x is remarkably configurable. It allows the user to load custom watch faces, custom data screens (called "data fields"), widgets, and other applications. You can also configure how the standard data fields are displayed in the various activities.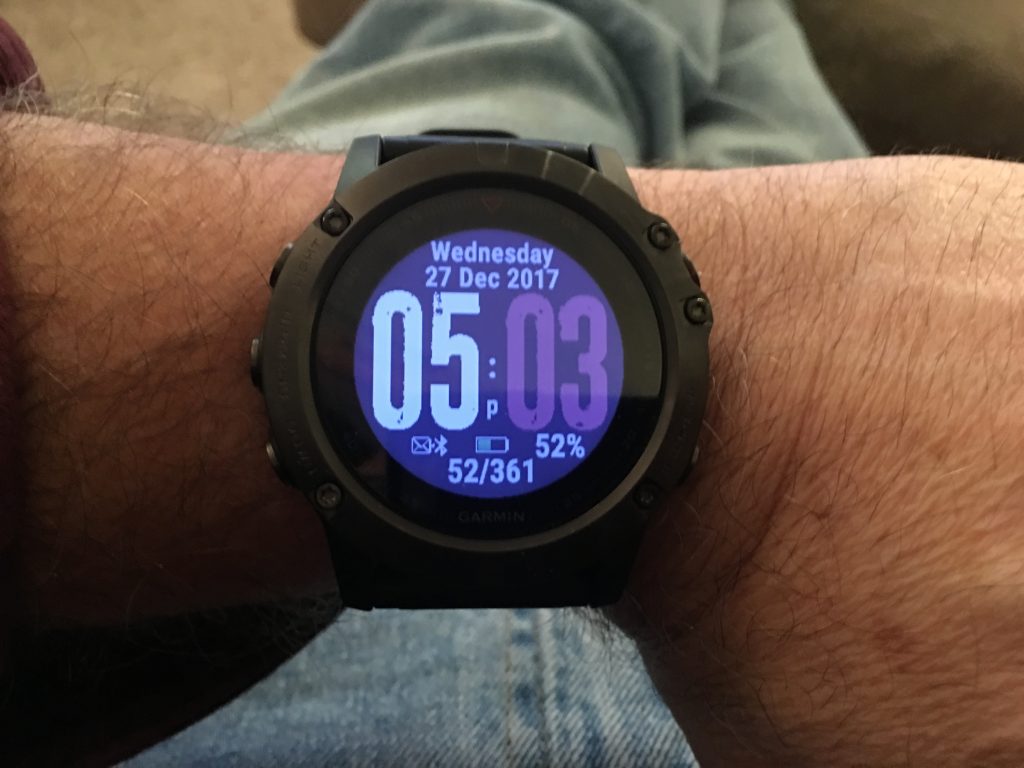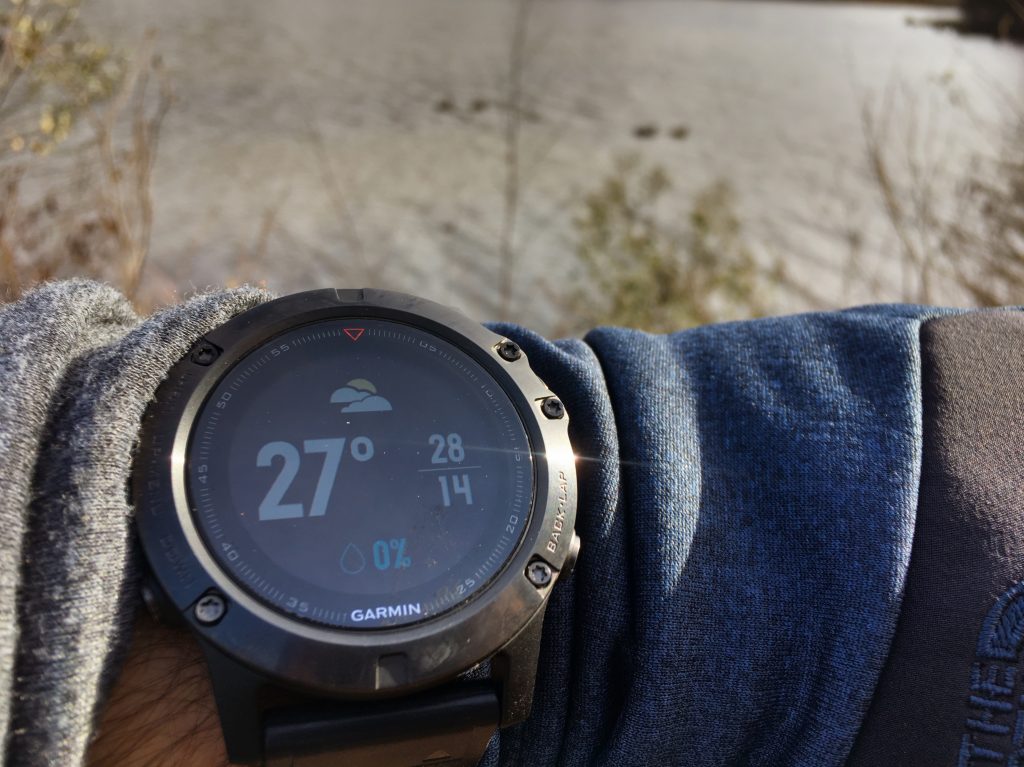 I found and installed a third-party watch face I liked, and modified some of the data field layouts for the hiking activity. I also installed high-resolution Open Street Map (OSM) 100k topographic maps for the southeastern United States, and GPX routes for the entire North Carolina Mountains-to-Sea Trail (MST).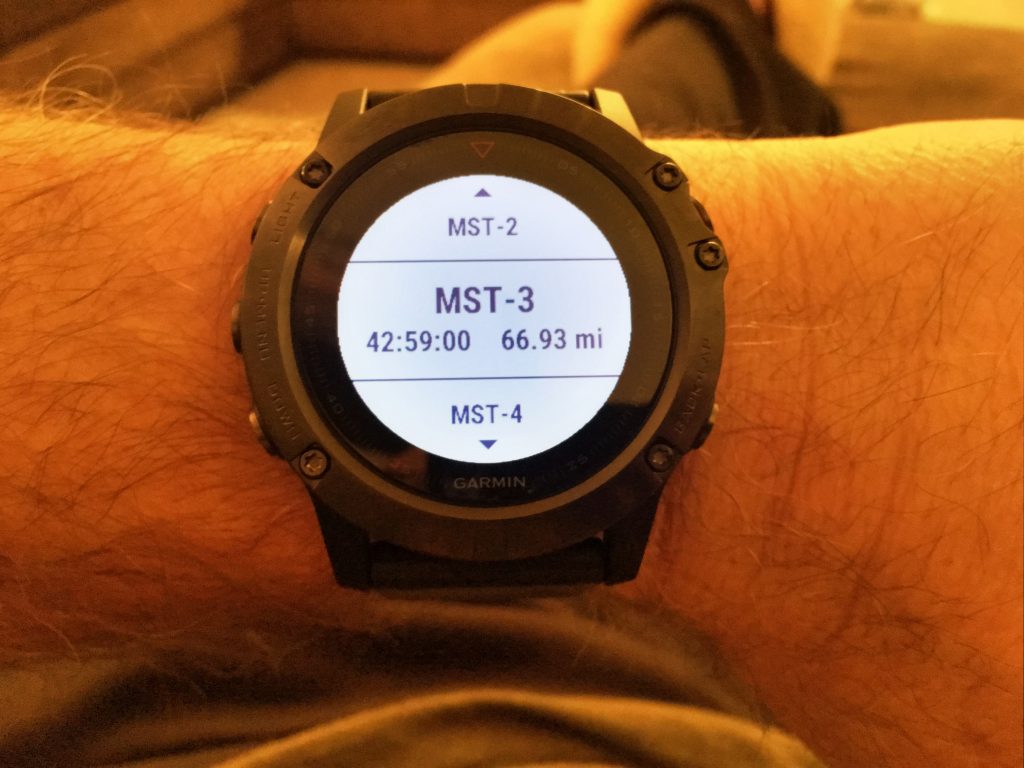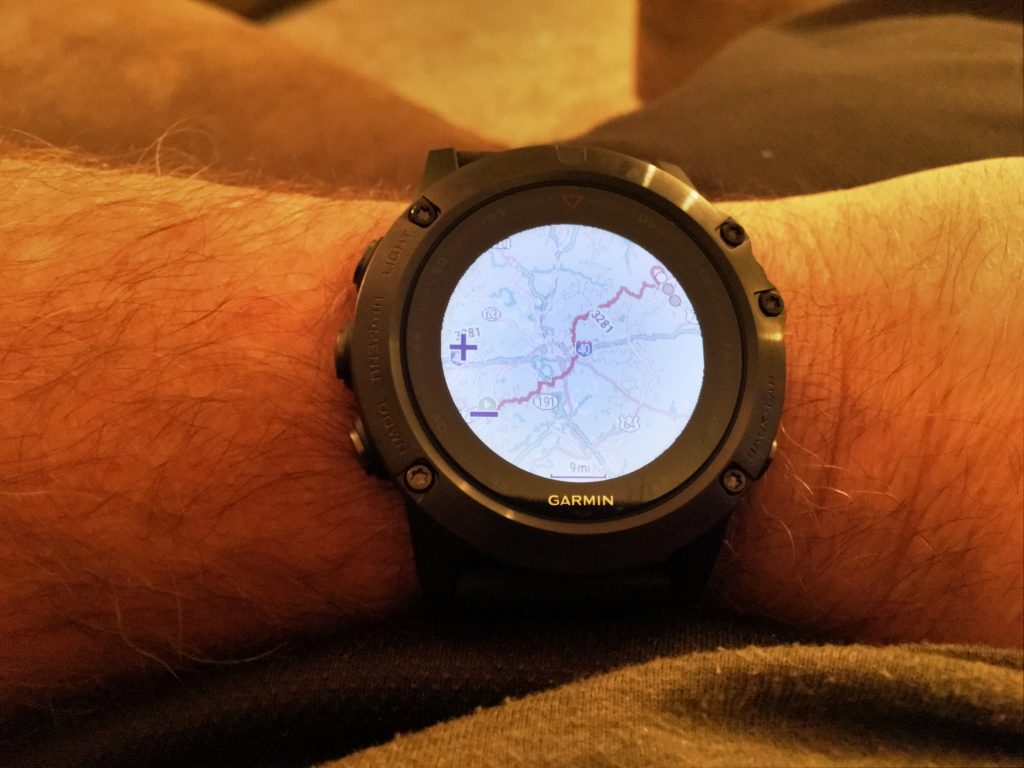 Garmin Fenix 5x: First Impressions
The Garmin Connect and Base Camp apps allow you to search for tracks and routes saved by others. I found a route for the hiking trail around a local lake, and used Base Camp to calculate and add a street route from my house to the park. Then I connected the watch to my computer and transferred the route to the Fenix 5x.
I started the Hiking activity and, in the Navigation settings, selected the "course" to follow. The Fenix guided me along the course, and kept me informed on how far I had to the destination. It also accurately tracked total ascent and descent. This is one of the key features that attracted me to the device, for backpacking use; I like to keep records of the amount I climb and descend each day.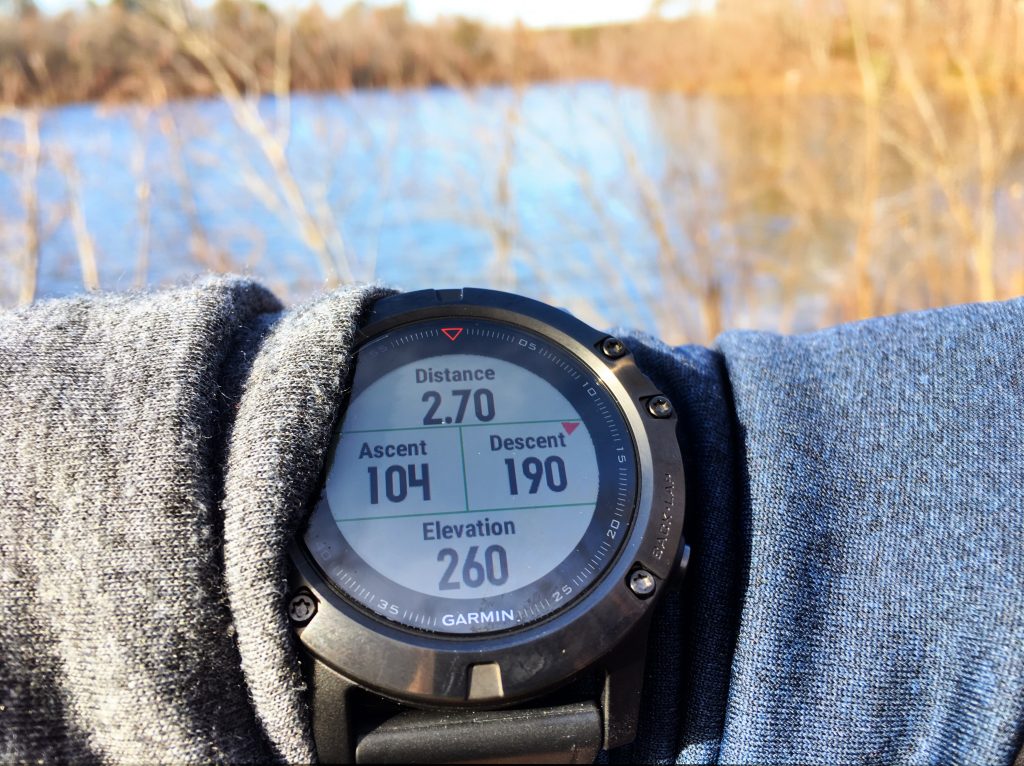 Initially I had the GPS set to use "UltraTrac" mode, as this significantly increases battery life. Unfortunately, the lower accuracy inherent in UltraTrac caused the Fenix to think I was frequently leaving the pre-programmed course, and it was almost constantly alarming to let me know I was off course, then back on course, then off course again. Changing the GPS setting to normal GPS mode solved this; I did not get another off-course "false alarm" after switching to normal GPS mode.
Will the Fenix 5x Keep Me On-Track?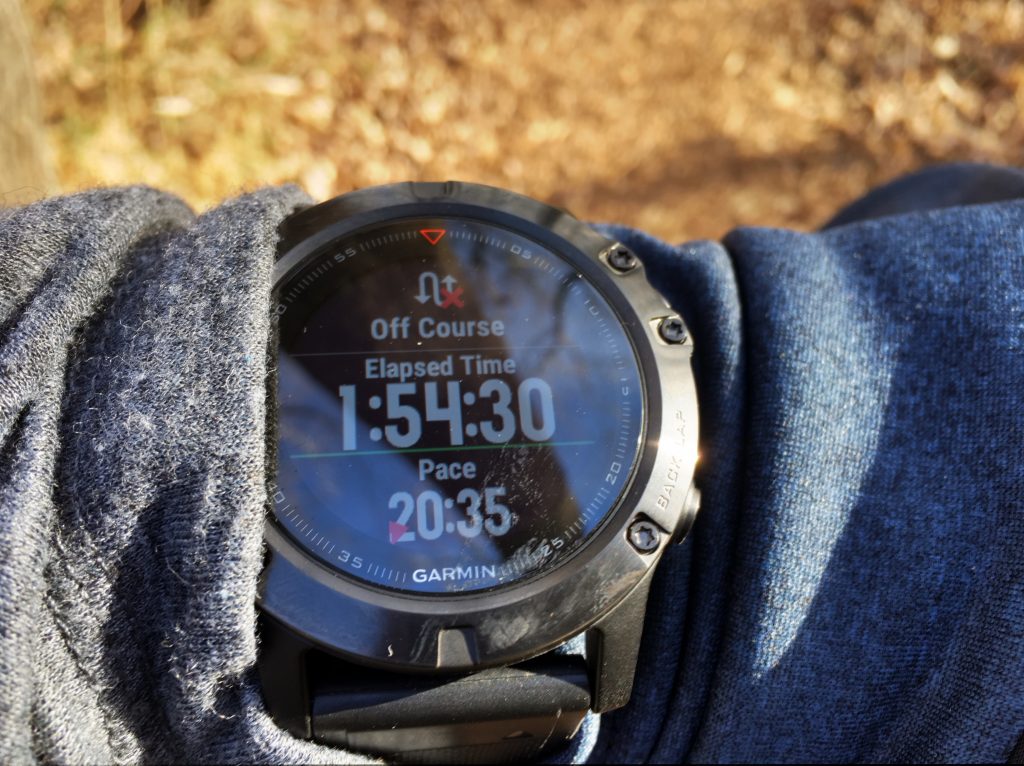 At one point in my hike, I tested the off-course notification by taking a spur trail that diverged from the main route. About 80 feet off the main route, the Fenix 5x alarmed and vibrated to notify me that I was off course. The map display showed me exactly where I was, and the number of feet back to the course. The turn-by-turn directions screen also led me back to the course. Once back on course, the Fenix notified me that I was back on track. This feature will be invaluable on indistinct trails in some wilderness areas, where no blazes are allowed.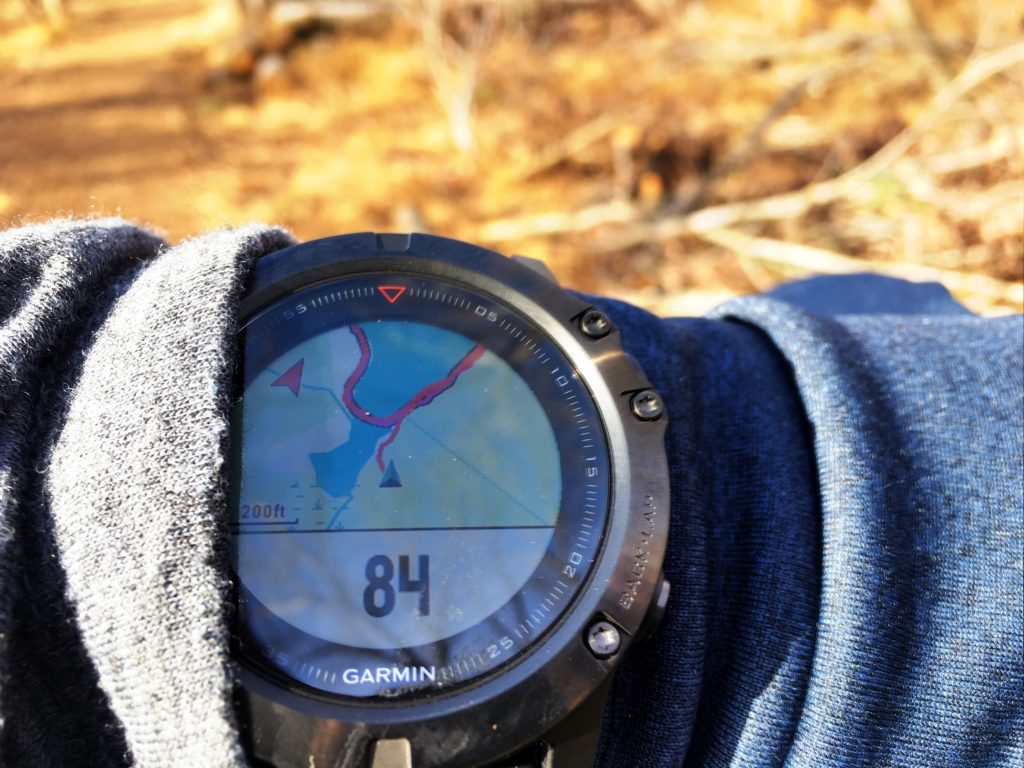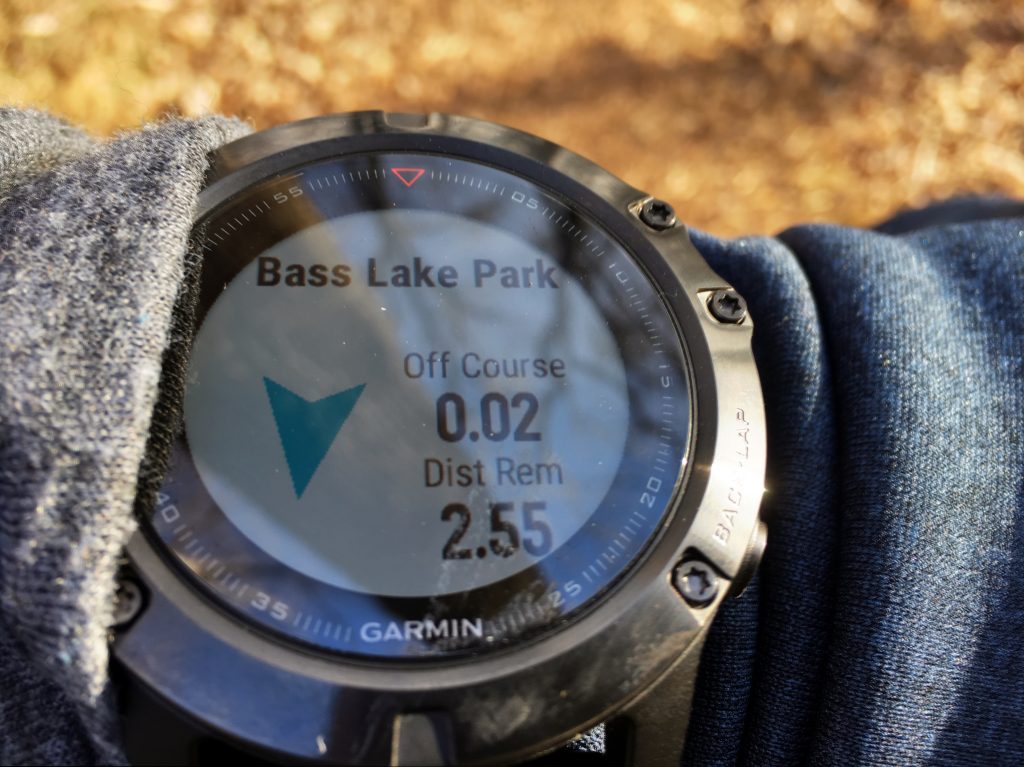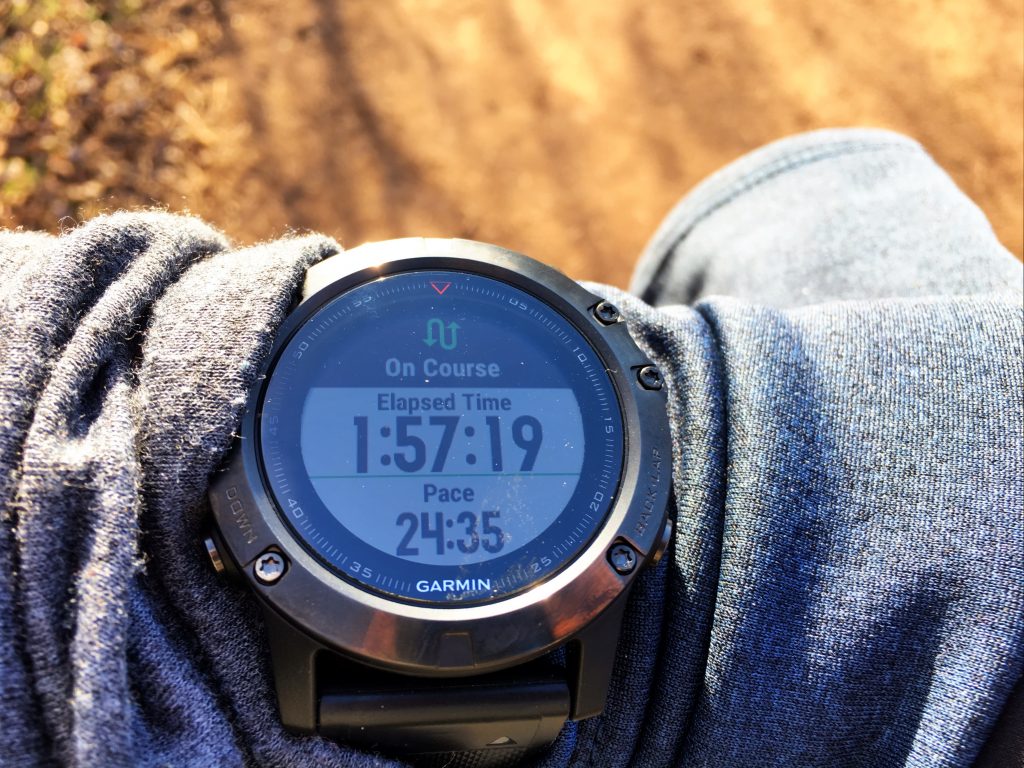 Of course, the watch tracked my steps, heart rate, and distance. It synced all this data to the Garmin Connect app on my iPhone, and allowed me to "drill down" to see more details. Quite impressive!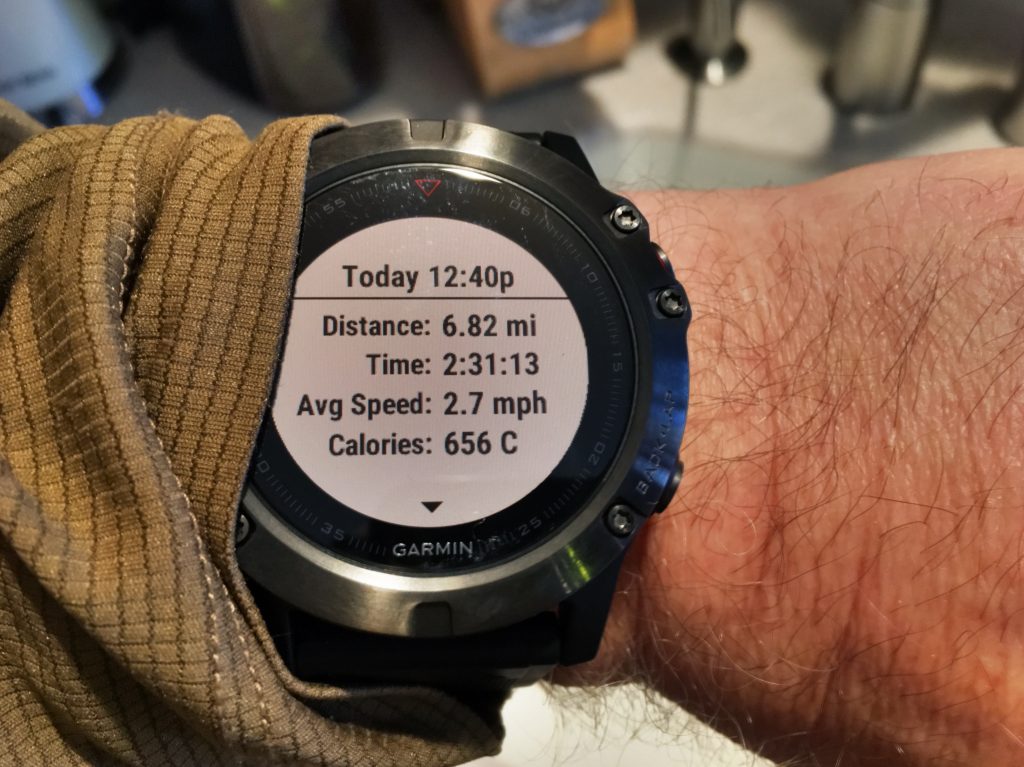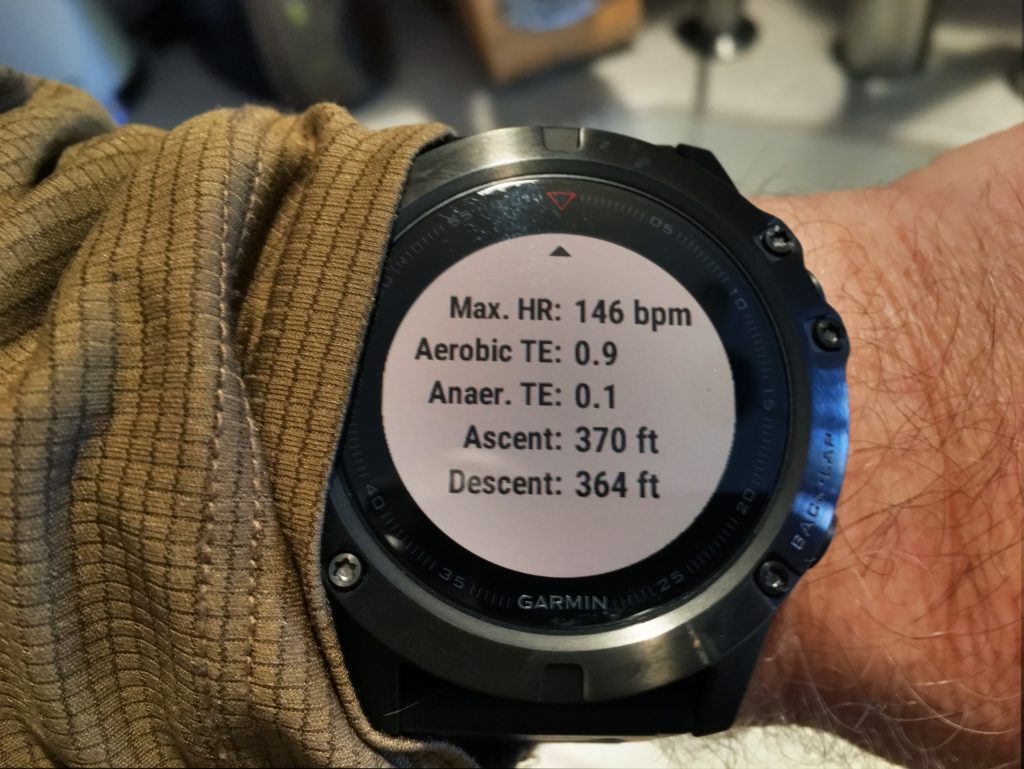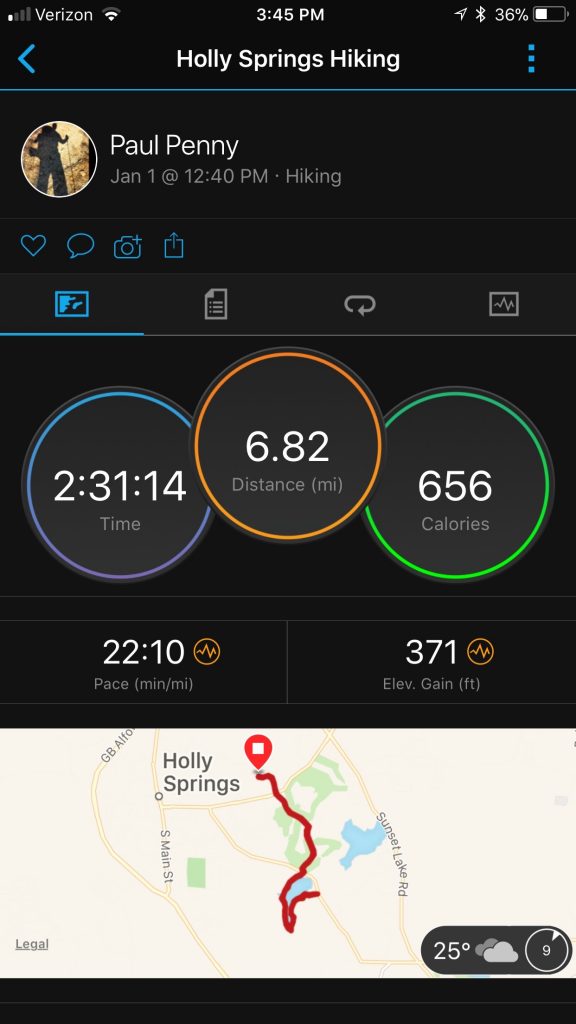 Fenix 5x Power Efficiency
The Fenix 5x expended about 18% of the battery, during a 3 hour hike with activity tracking and GPS routing enabled. This leads me to expect that I'll be able to get a full day of use even during long summer days with 12-14 hours of hiking. The Fenix 5x has a 420mAh battery, so I should be able to charge it for as much as 3 weeks using a single 10,000mAh battery pack. My iPhone 6s Plus battery is 7-8x as large; if using GPS on the Fenix enables me to stretch my iPhone battery substantially, I may see a net reduction in total power use while on the trail. It will be interesting to see how this works out, in my long-term testing.
The only unexpected issue I had was with the temperature feature of the watch. It displays the internal temperature of the watch, which is significantly affected by your body temperature. On a cold day, it consistently read approximately 20F higher than the ambient temperature! A little research revealed that the primary purpose of that sensor is to aid in calibration of the barometric pressure sensor inside the watch; it really isn't very useful as an ambient temperature sensor, so I disabled the temperature widget.
The Verdict: I Love It!
It's still early, but so far, I really like the Garmin Fenix 5x. It's lighter, smaller and more comfortable than I expected. The menu system has a bit of a learning curve, but I'm getting the hang of it, and it's really not that hard. It collects and displays an amazing range of information. And the wrist-sized mapping and navigation capabilities seem to be quite usable. It's much more useful than I expected, for a 1.2″ diameter display.
I can't wait to get into the backcountry and give it a real-world backpacking test!
Want to try one?
You can purchase the Garmin Fenix 5x from Amazon here, or from REI using this link. I appreciate you using these links, as they'll earn me a small affiliate commission that I can use to pay for my hosting fees!