By late December, after a couple of months of flatland hiking, I was suffering from mountain withdrawal. I needed an extended hike in the high country. Several days of unseasonably warm weather, the week before Christmas, presented an opportunity. Logistical constraints only left me with one real option: Mountains-to-Sea Trail Segment 4, and Linville Gorge. So that's what I did, with only a couple of days of planning. Spoiler Alert: It was SPECTACULAR.
Linville Gorge: The Most Rugged Section of the MST?
The Blue Ridge Parkway was closed, due to snow and ice a couple of weeks earlier. So I had to find a section of the MST that didn't require the BRP for access. I couldn't just start where I left off, on Segment 2. I also had to find a section where I could get a shuttle ride from my ending point, to the start. After a bit of searching, I came across HikeMore Adventures, in Jonas Ridge, NC. They're a full-service outfitter serving the Linville Gorge area. A quick phone call confirmed that they could do what I needed, and when. I packed for cool weather (30's to 60's), restocked my food supply, went to the only meeting I had scheduled for that week (early morning on Monday, December 18th), and then headed for the hills!
Day 1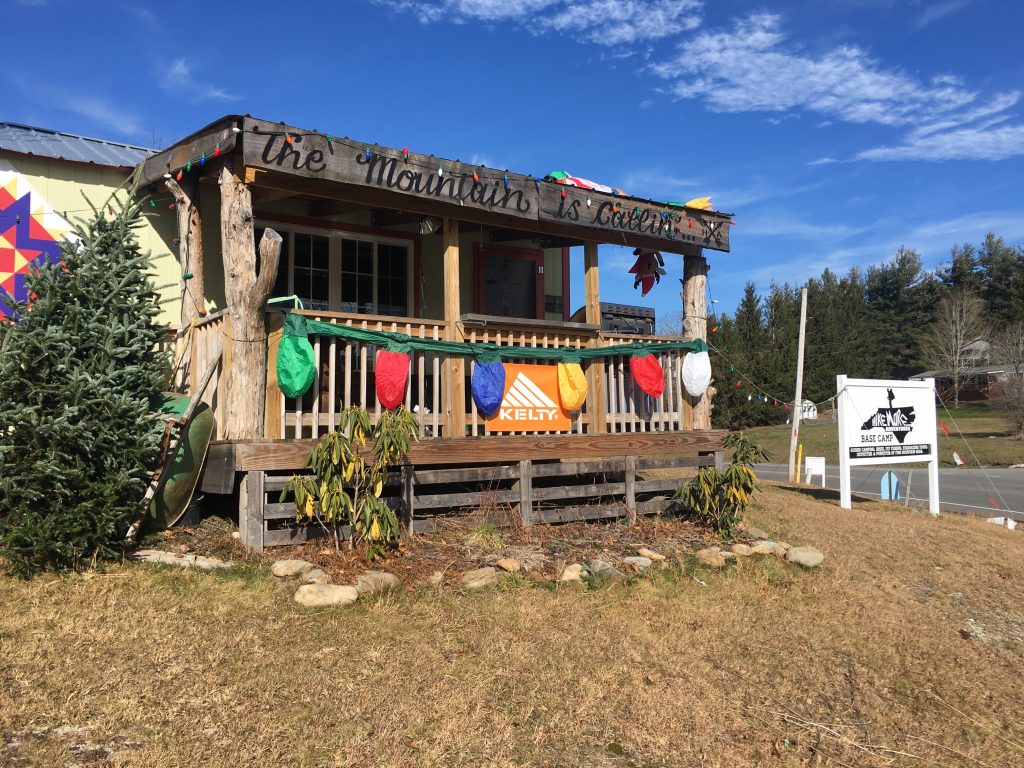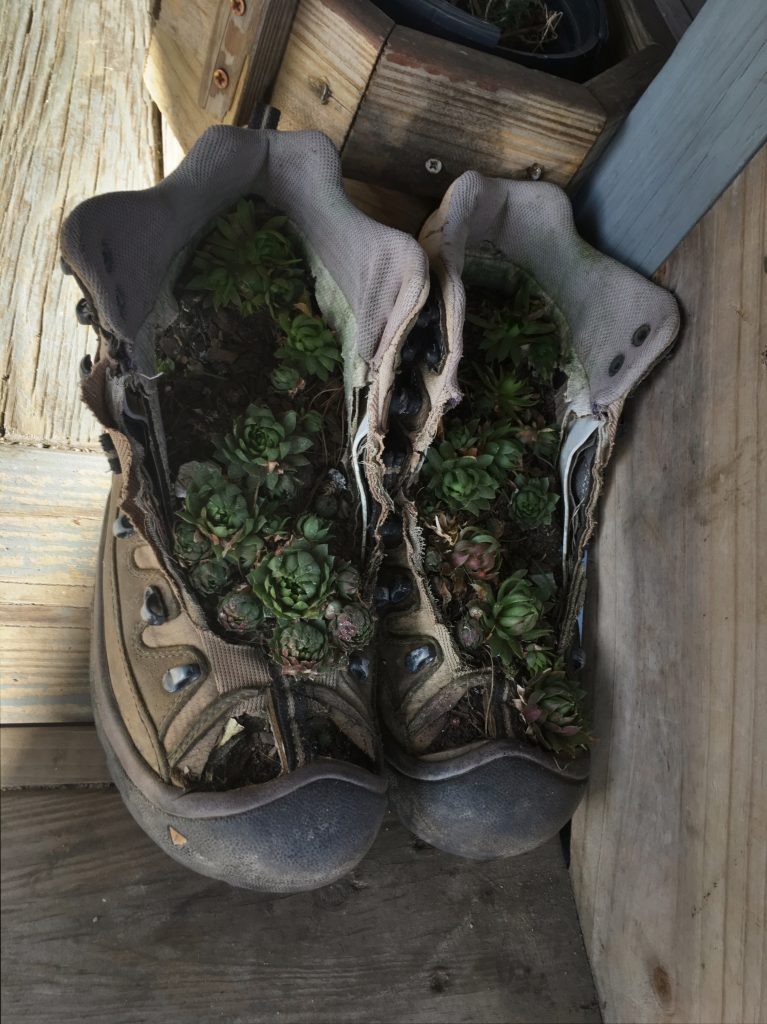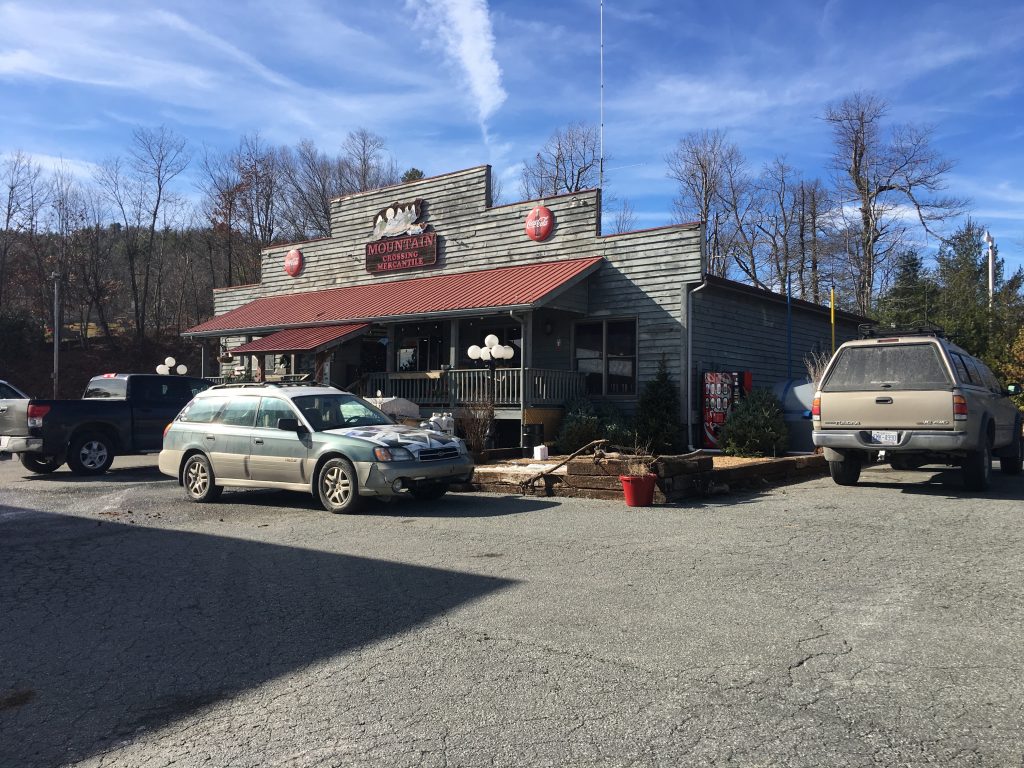 First stop, HikeMore Adventures. Curt was terrific. He politely asked about my plans and hiking experience, and warned me that what I had planned was a very rugged hike. He made sure I knew that I could call them for help or a ride, if I needed to bail out early. Then Skyler went with me to drop my car at the NC181 MST trailhead, and he hauled me and my pack to the US 221 trailhead near Marion, about 30 road-miles away. By about 2PM, I was hiking toward Linville Gorge!
I managed about 5 miles before dark, including crossing the North Fork of the Catawba River on a fantastic pedestrian bridge, and starting the climb up Bald and Dobson Knobs. I hung the hammock, turned in early, and slept fairly well, for my first night out. My new Hammock Gear Burrow 20 top quilt kept me toasty warm!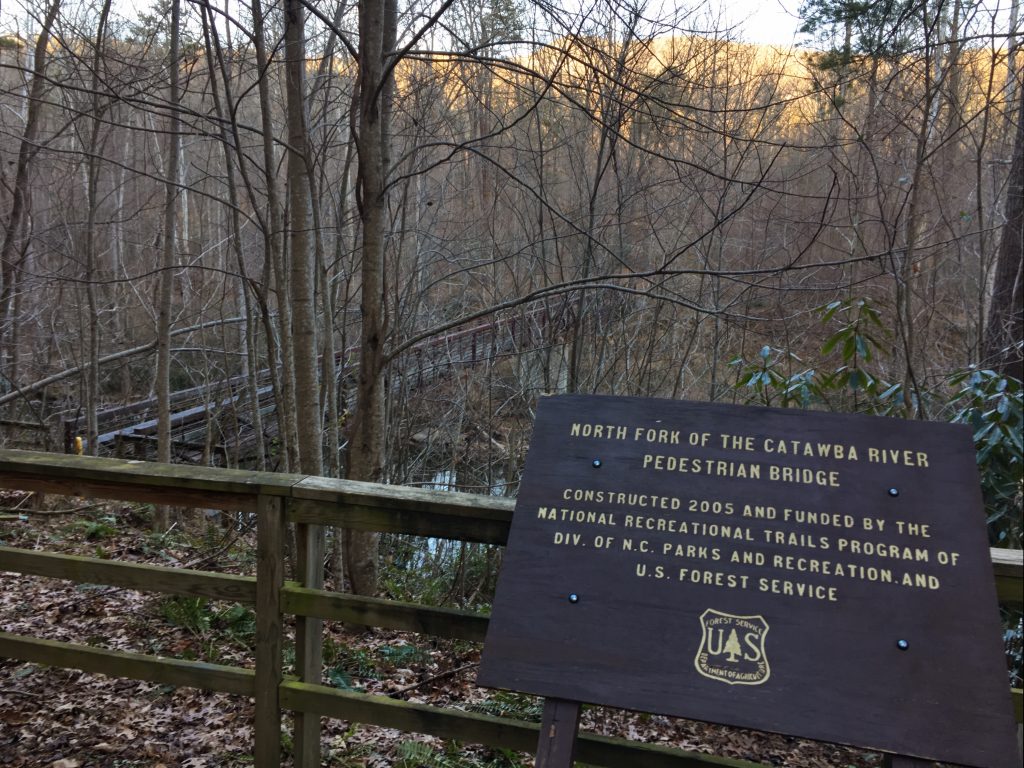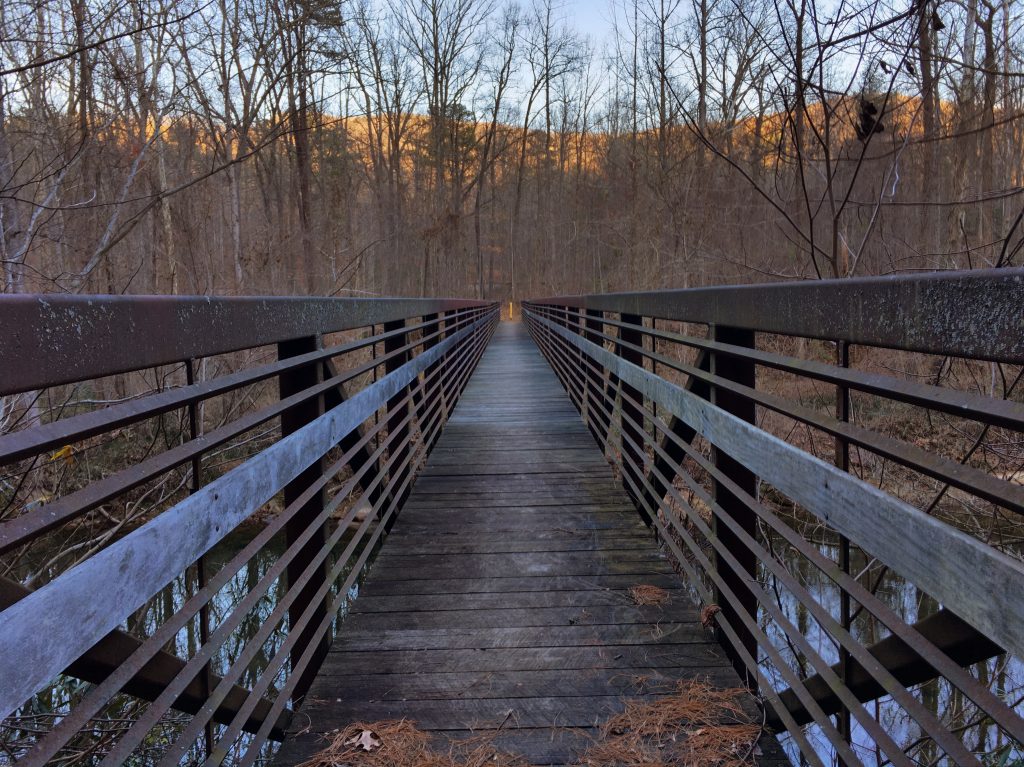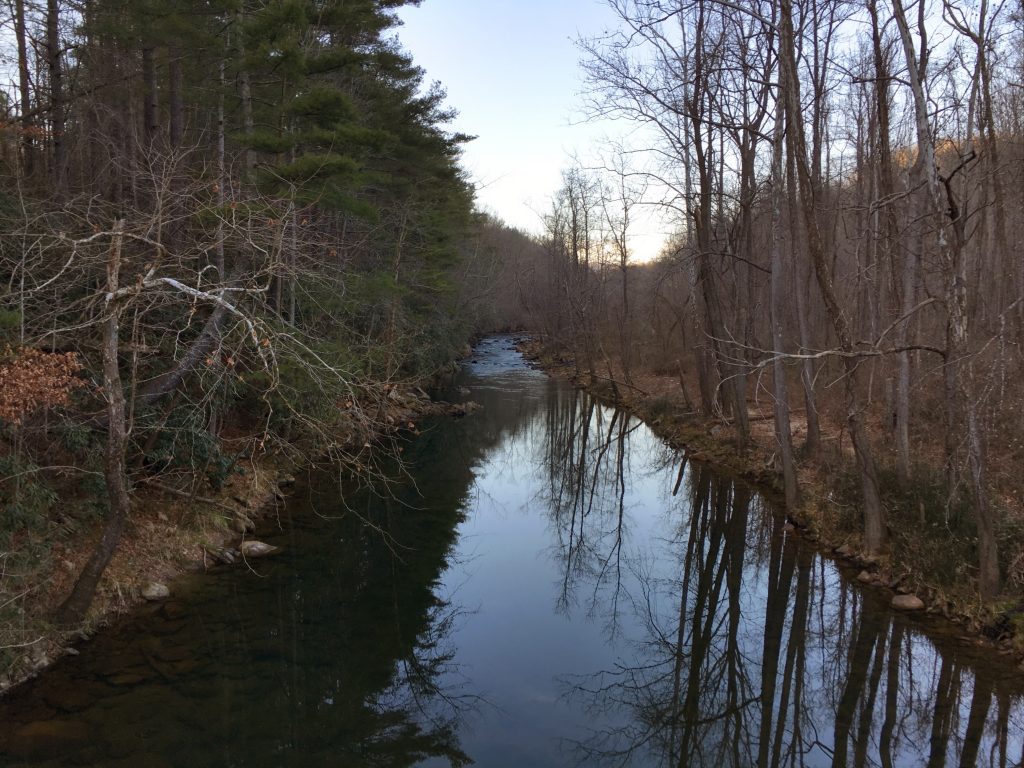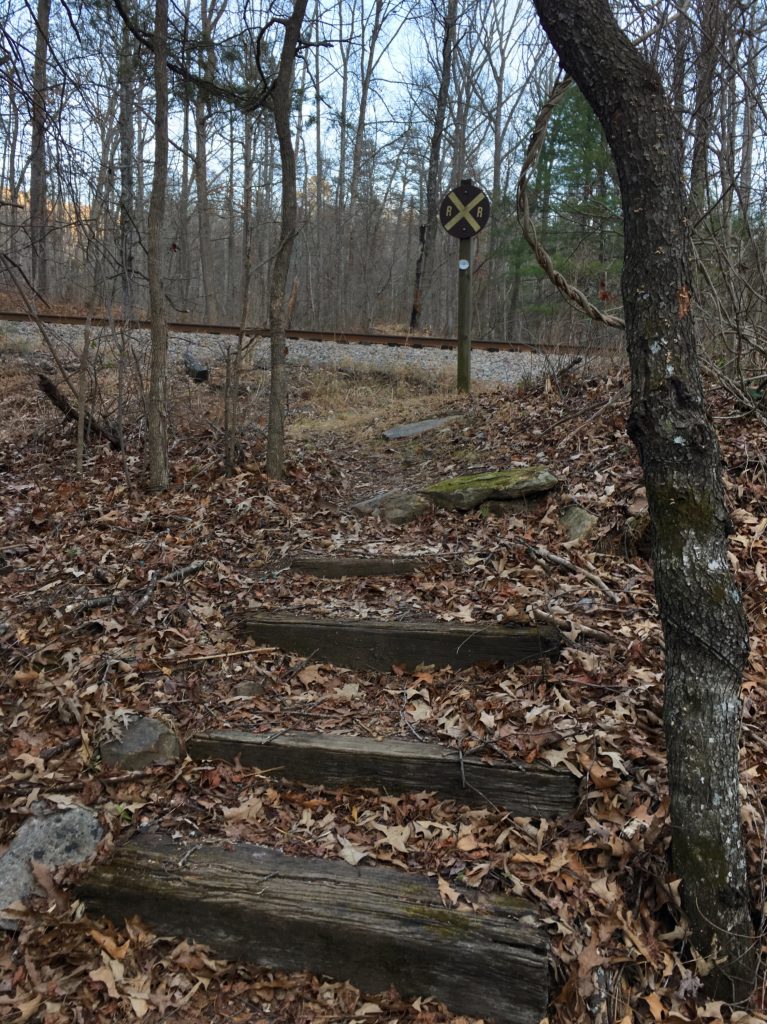 Of course, when you camp in winter, there's a lot less daylight. So, after going to sleep at about 8PM, I woke up at about 4AM. I stayed in the hammock, read maps and guides, and planned my day until after 5, then got up and started getting ready. I was rewarded with a stunningly beautiful dawn.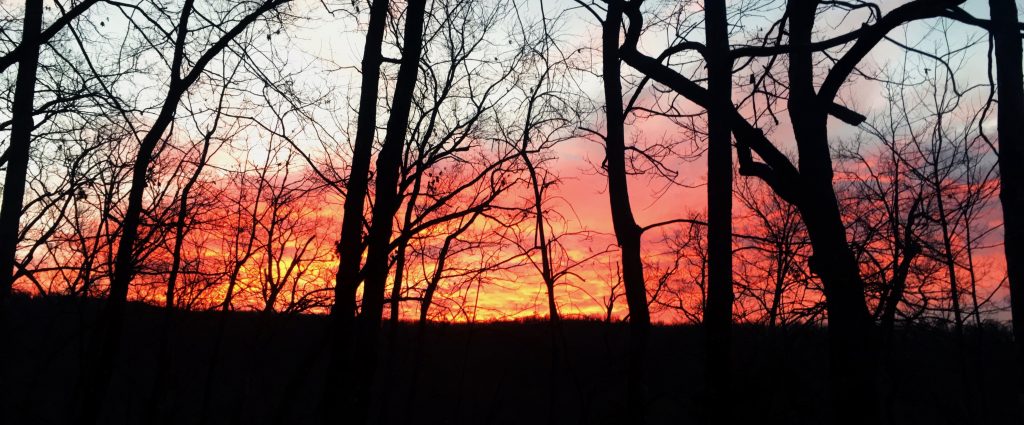 Day 2
After breakfast and breaking camp, I resumed the climb up Bald Knob. This was about a 2,300 ft climb up from the Catawba River, including the 300 feet I climbed Monday afternoon. The remaining 2,000 feet, over 3.5 miles, took me about 5 hours. It was a heck of a climb, with some sections exceeding 30% grade, and it delivered beautiful views.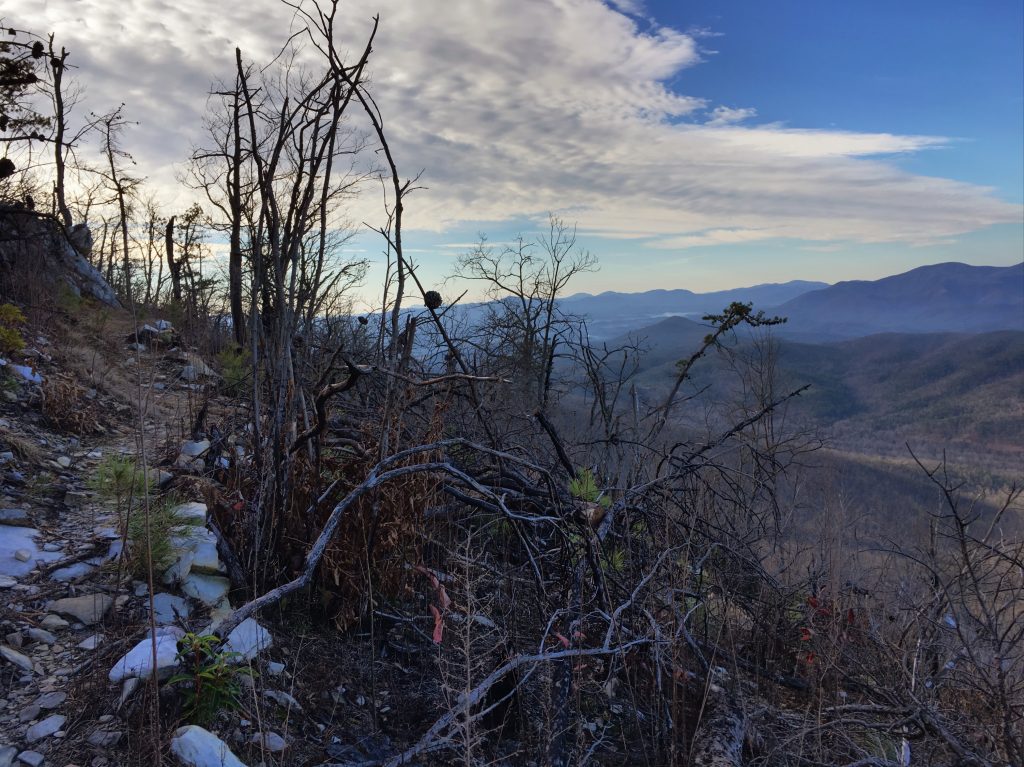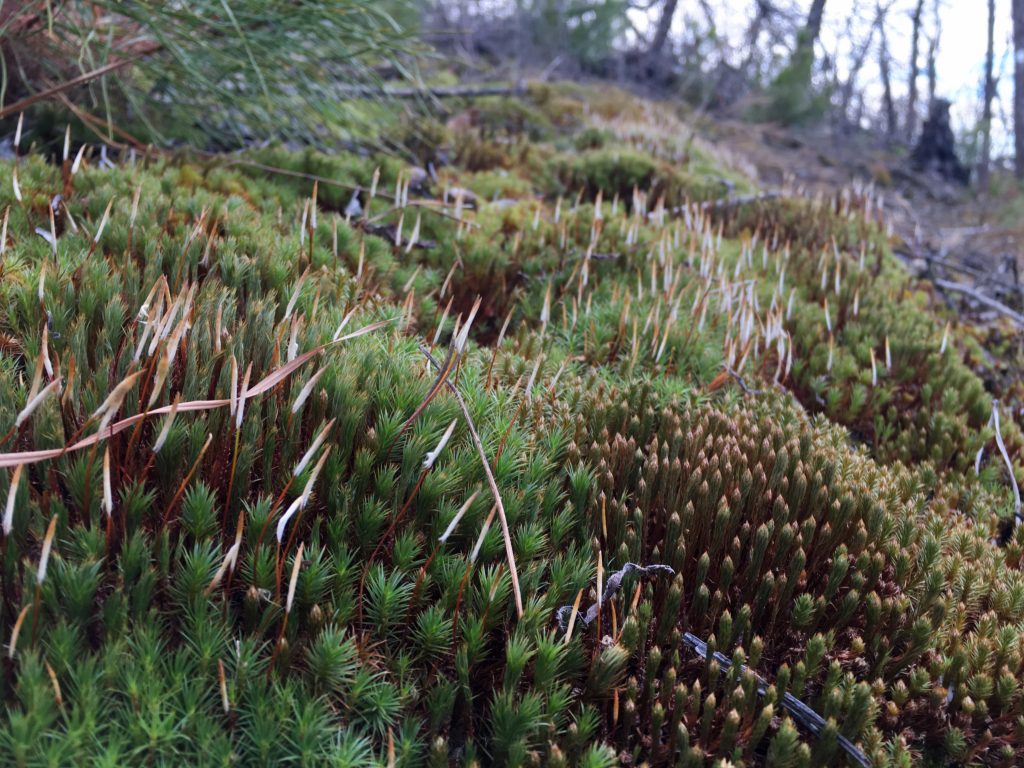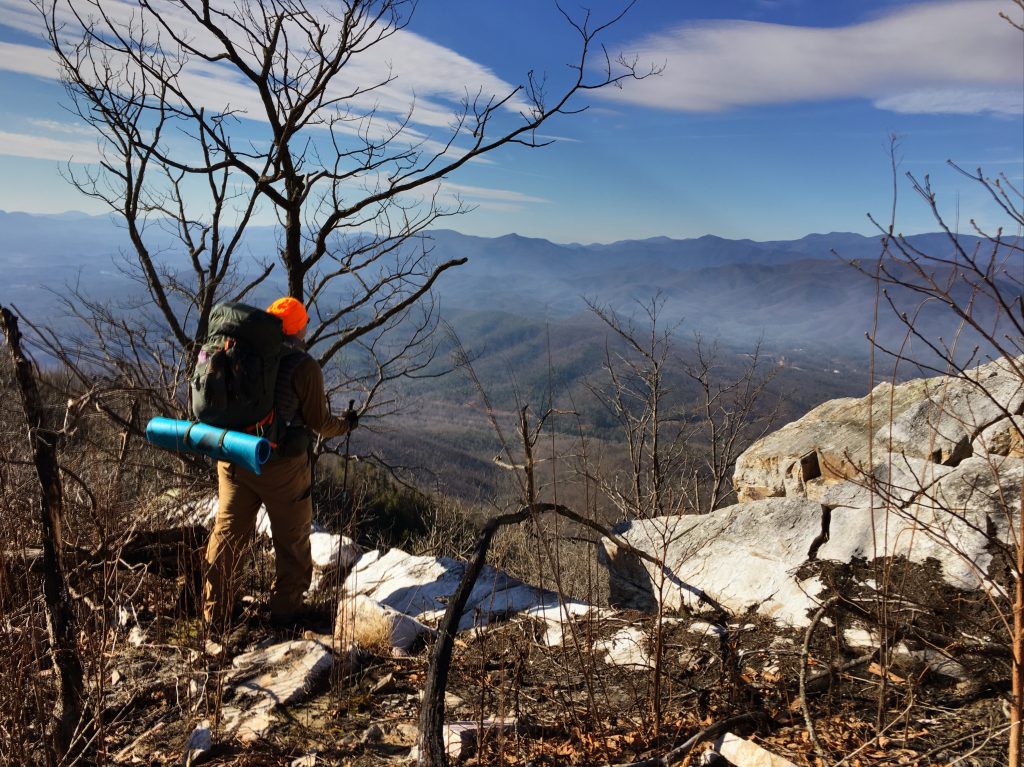 Walking the saddle from Bald Knob to Dobson Knob, I met a couple of new friends!
I don't know what Buckwheat and Jesse were hunting… and I don't think they really knew, either. But they were friendly and having fun on a nice day. Eventually, about 45 minutes later, I met their hunter, coming up the trail, and pointed him in their direction.
I started the climb with about 2 liters of water, and that ran out on the saddle, so I had an all-natural "Sno-cone": sleet left over from the week before, still pilled up in shady spots. I also used my JetBoil to melt a pot of sleet and filtered that into my hydration bladder. That got me by for a couple of miles, until a came across a nice spring right on the trail, on the descent into Linville Gorge.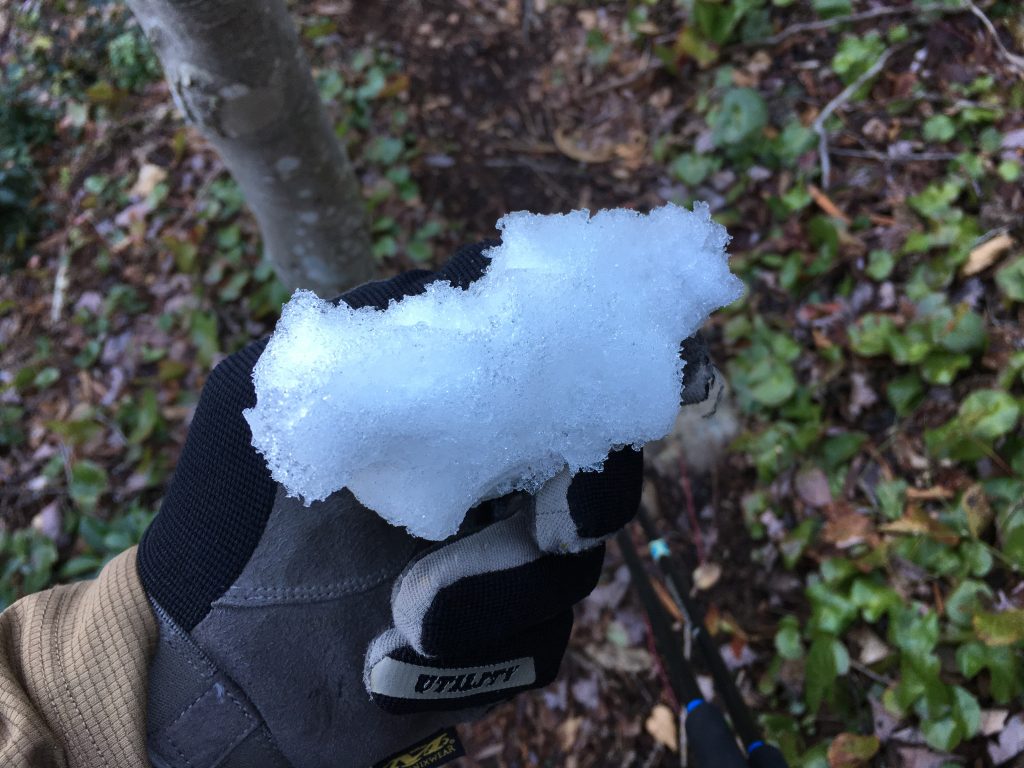 After about 5 miles, the trail emerged on a forest road, and I followed it for about a mile and a half, until it met the Overland Victory Trail. The MST briefly follows this historic Revolutionary War road, then becomes single track again.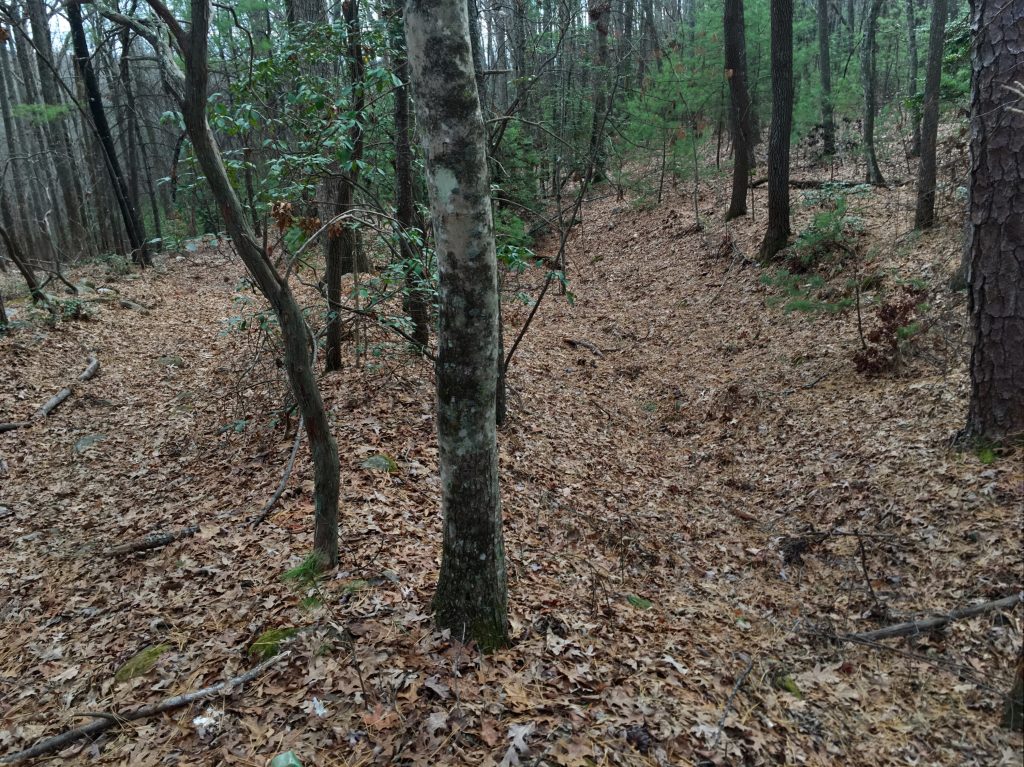 After about 7 miles for the day, I found a beautiful campsite beside a creek and made camp.
Day 3
At about midnight, the rain arrived. This was my first real rain since starting the MST several months ago, and my first experience breaking camp and attempting to stay dry-ish in the rain. It was in the forecast, and I was mostly prepared for it. Luckily, it wasn't super cold; probably in the mid-40's. It took me a long time to get things packed up, but eventually I was underway. It was less fun than usual, and I don't have tons of pictures, because iPhones really don't work well in the rain. But I did manage to get a few at The Pinnacle, including me hiding under a tiny overhang, to get a few minutes out of the rain. I want to go back there when it's dry; the view should be outstanding.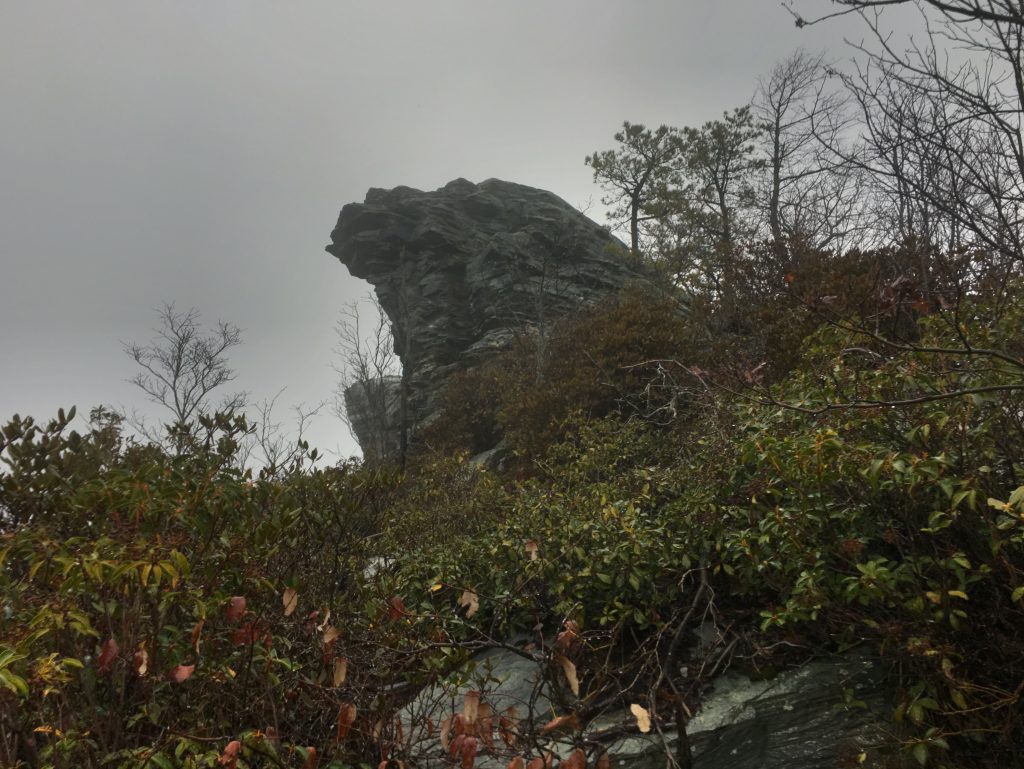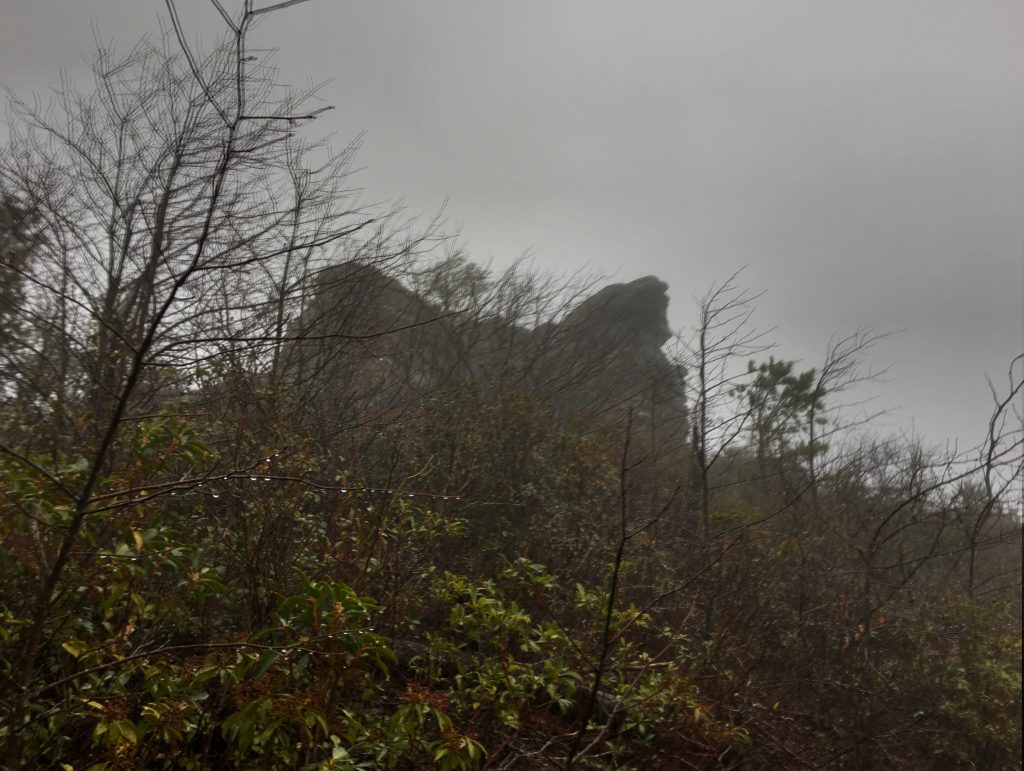 That few minutes of respite from the rain, under that overhang, really made a huge difference in my morale. That was a good thing, because after The Pinnacle, there was a long, steep descent into Linville Gorge, that was pretty hairy on wet leaves. It was very slow going. That was followed by a short, very steep climb up the last knob before the Linville River, and another descent down to the river.
The Linville River
The rain broke, just as I was approaching the river, and I was elated. I really wanted pictures of the river crossing, and now that would be possible! I shed my boots and socks, zipped the legs off my pants, slathered my feet in more HikeGoo, and donned my FiveFingers V-Trails. After setting up the iPhone on my mini-tripod for a crossing shot and starting the camera timer, I stepped off the bank into the Linville River, on December 20th.
I was expecting the water to be cold. It was ridiculously cold. What I hadn't expected, was the deep silt deposits just inside the river bank. What looked to be knee-deep water, quickly became crotch-deep, as I mired down in almost a foot of silty mud. Luckily my FiveFingers stayed on my feet, as I pulled them out of the muck. I sprinted to get as far as I could before the 10 second timer on the camera expired. I didn't get very far, but it still made for an epic photo. Then I returned to the bank, fetched my phone, and re-entered the water for real, at a less-muddy spot. It was slick and slow going across the wide river, but I wasn't going to rush and risk falling. After a few minutes that seemed much, much longer, I made it to the east bank. My thermometer confirmed a water temperature of approximately 39F!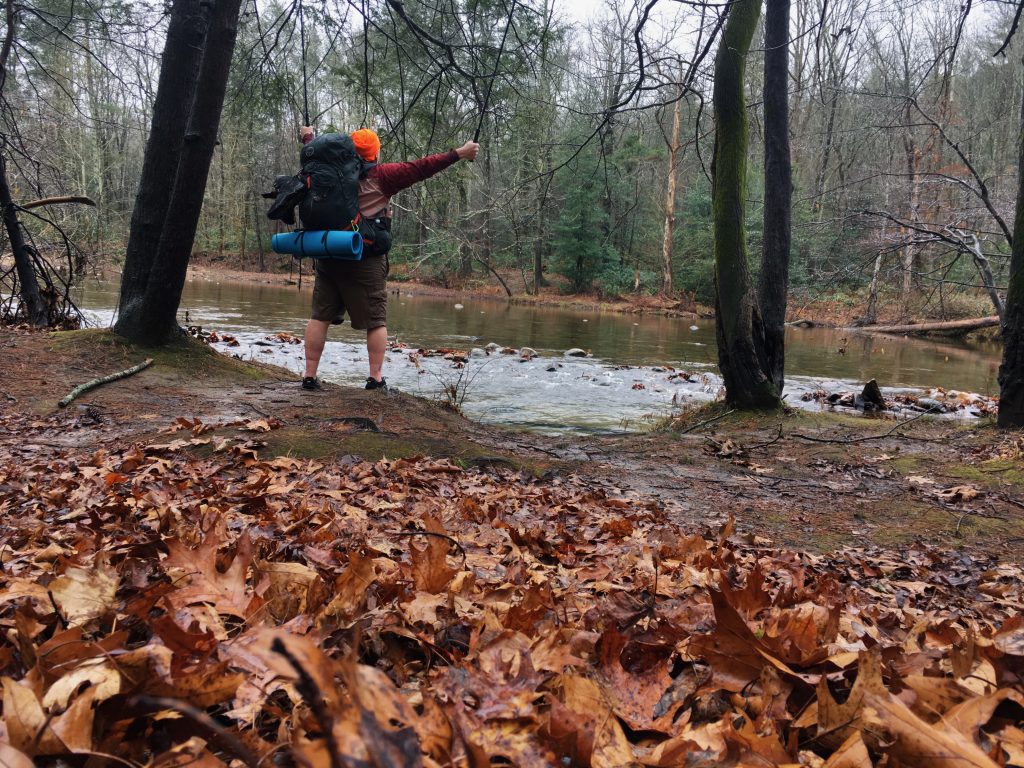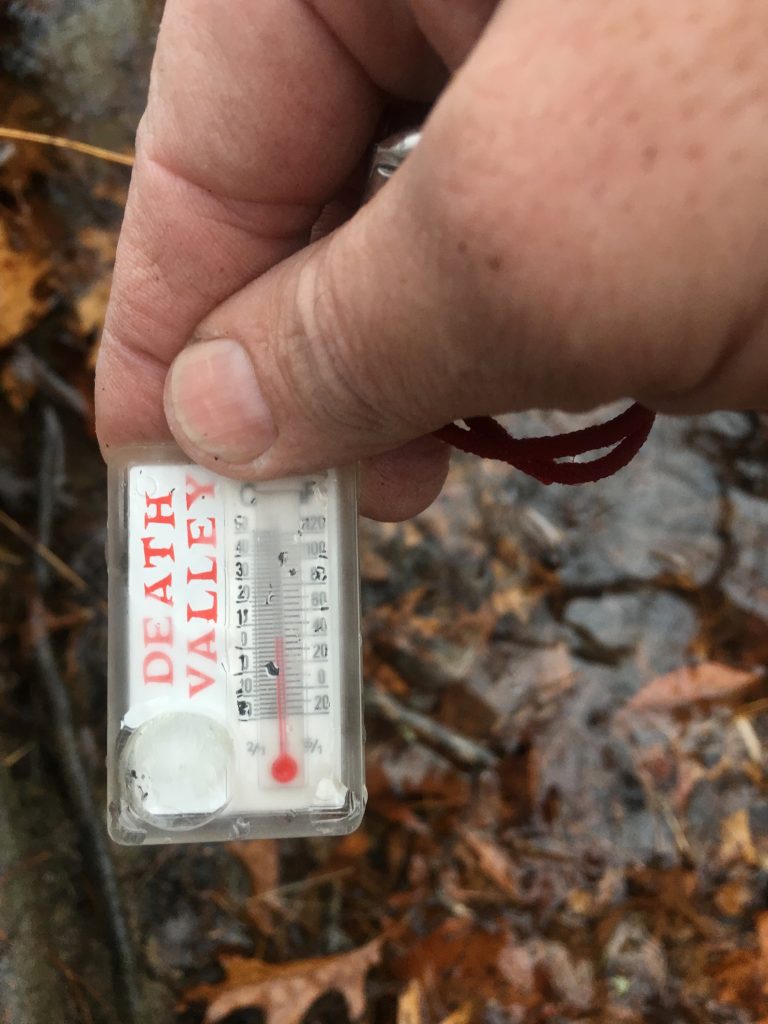 Climbing Shortoff
I got my pants, socks and boots back on, and filtered 4L of water, to last the next 24 hours (there is no reliable water on the east rim). Then I started the slog up a ridge, that would become Shortoff Mountain and the eastern rim of Linville Gorge. This would be a 1,700 foot climb, over about 2.5 miles. Much of it was through burned-off slope, and parts were very steep. And it started raining again. Still, there were beautiful things to see.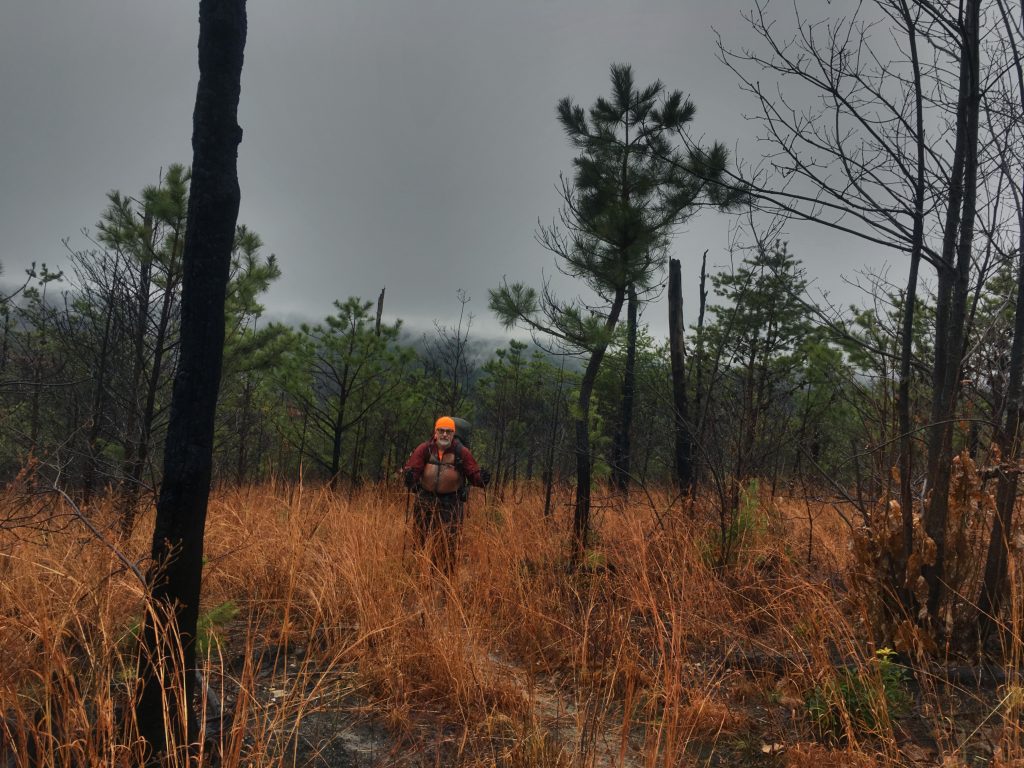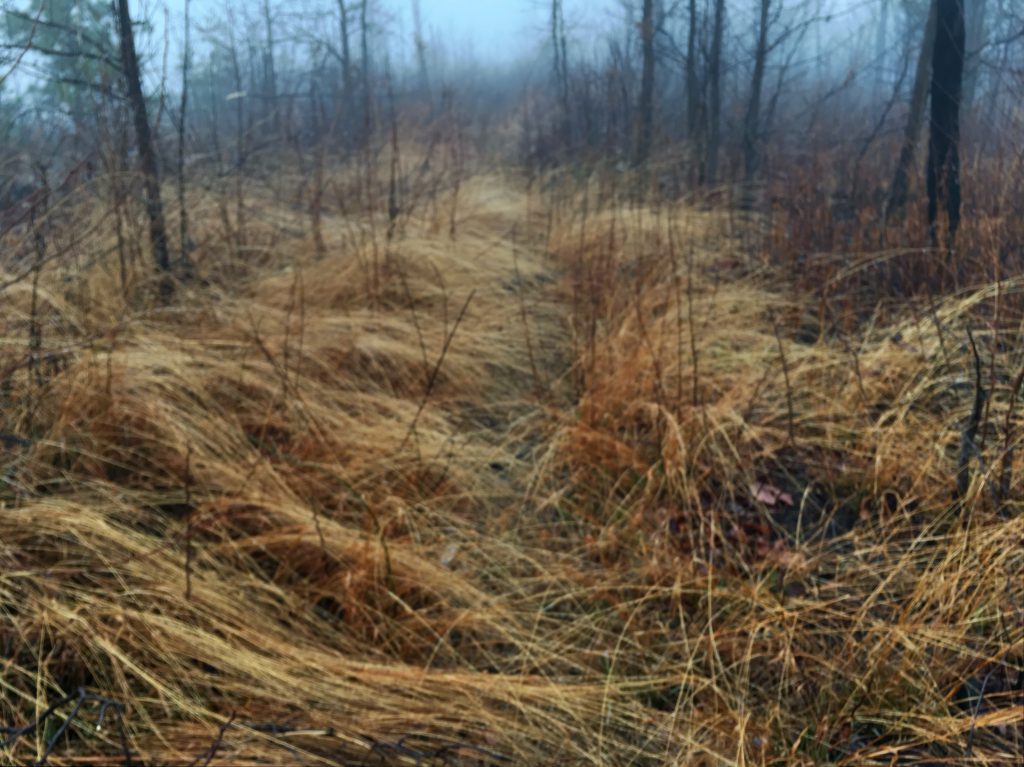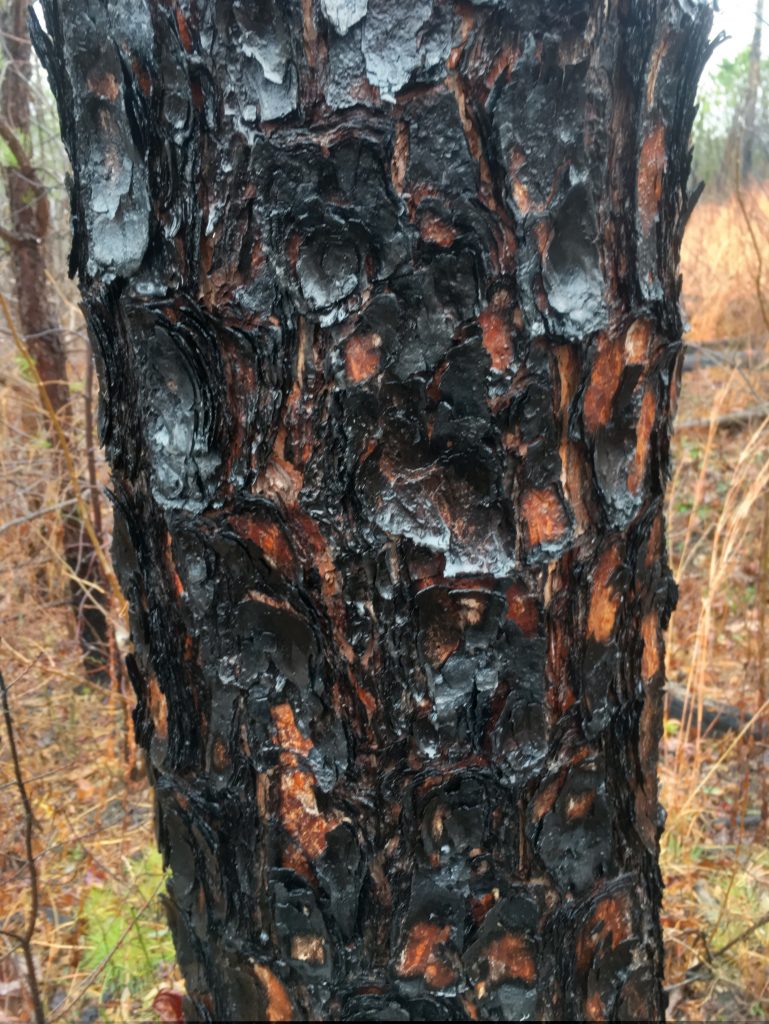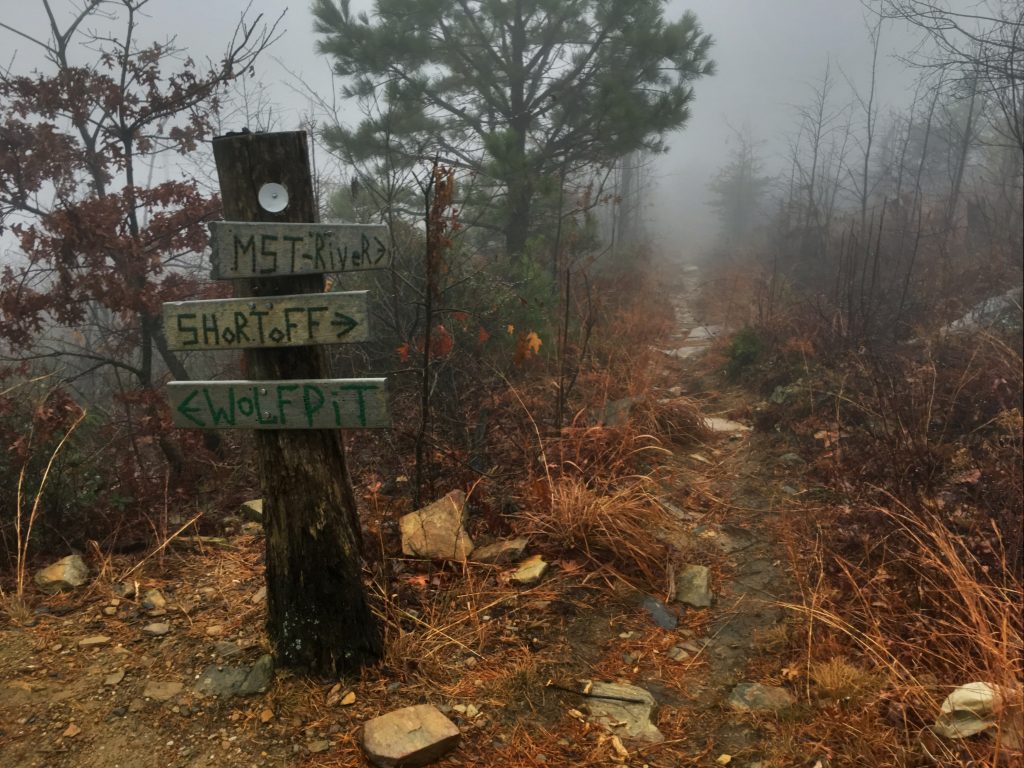 Near the top, there's a junction with the trail from Wolf Pit. There are two routes from here to the top of Shortoff. Since it was raining and very foggy, there would be no view from the "pretty" route, and I had less than an hour of daylight left, so I opted for the "direct" route up the mountain. Unfortunately, my GPS led me astray and I was about two-tenths of a mile down the Wolf Pit trail before I realized my error… then I had to hike back up, and head up the proper trail to the top of Shortoff. This was a ridiculously steep climb, with much wet exposed rock. It looked like mountain cascades, it just needed a little more water. More slow going, but I made it to the plateau at the top of Shortoff just before dark. I donned my headlamp and setup camp, after a very hard 7 mile day with about 3,200 feet of climbing. I ate and went to bed, exhausted.
Day 4
The rain stopped and things dried out considerably overnight. I got up early again on day 4, and started breaking camp. I was rewarded with another spectacular dawn, a ribbon of ember across the entire eastern horizon.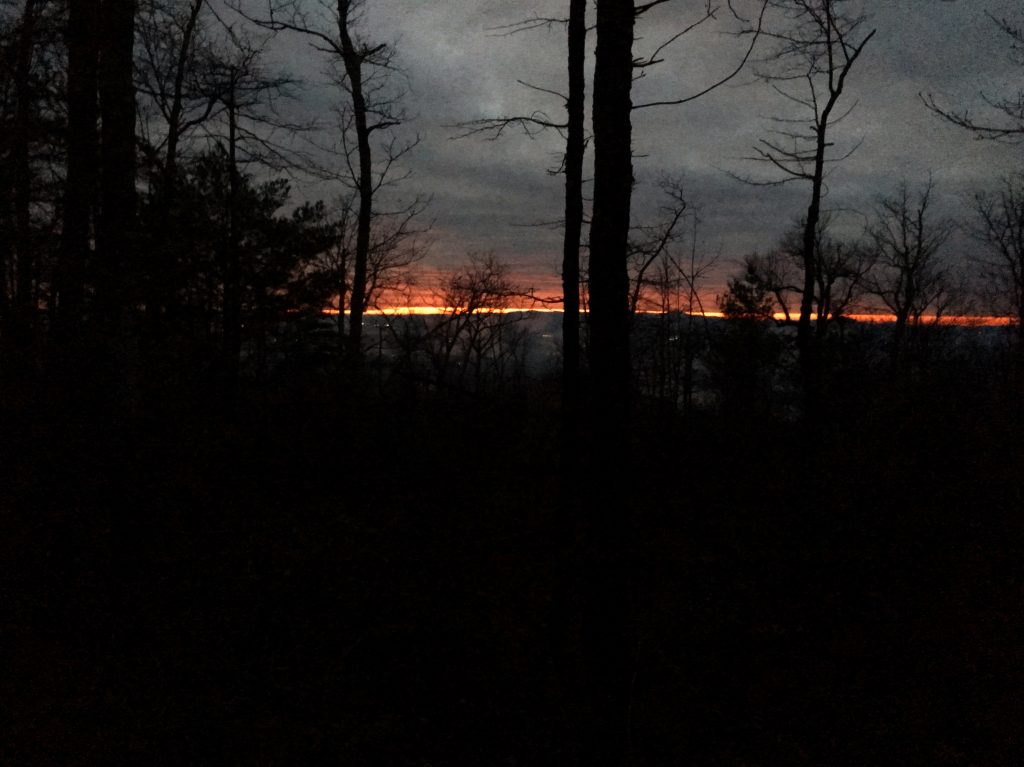 After packing up, I backtracked (without the pack) about half a mile along the primary MST route, to see the views. Shortoff serves up breathtaking views to the north, along the full length of Linville Gorge.
Then I returned to the camping area, grabbed my pack, and started the hike along the east rim. Clouds were starting to move back in, but I managed to see some remarkable views, and get some pretty good pics, before fog settled back over Linville Gorge.
After a couple of miles of little elevation change, the trail descends a bit to Chimneys Gap, then makes an absolutely ludicrous climb up to The Chimneys. This is only about 1,000ft, over about 1.5 miles, but parts of this climb are over 35% grade. It's the most challenging climb I've done so far. And the view is stunning, as you climb a narrow ridge up to The Chimneys, with views of both Linville Gorge and the valley to the east.
The Chimneys
The Chimneys themselves are quite something. Dramatic stone outcroppings in diverse configurations, showing many variations of what plate tectonics and erosion can accomplish. The trail through The Chimneys is also quite challenging, and have you going over, under and through the rock features. A couple of the squeezes are pretty tight! And there's one spot on the high, knife ridge, with an unbelievable 360 degree view of Linville Gorge, the Chimneys, and the valley.
Then there's an easy descent to the Table Rock parking area, and semi-civilization! Trash bins and pit toilets, but no water here. This also begins your departure from Linville Gorge.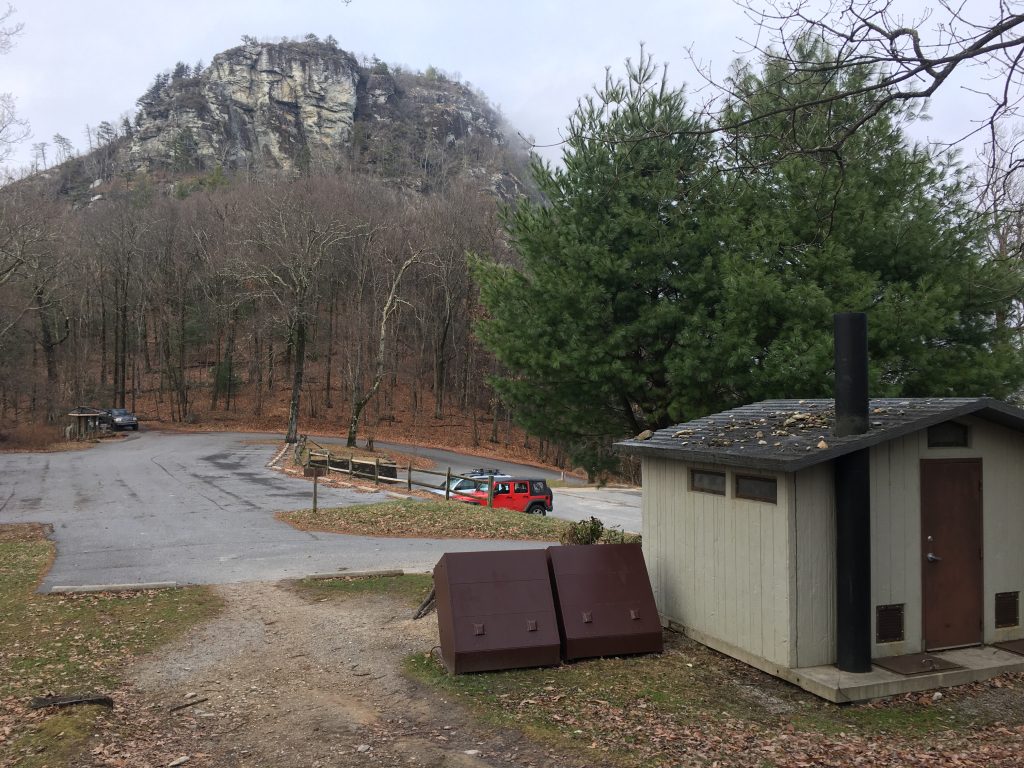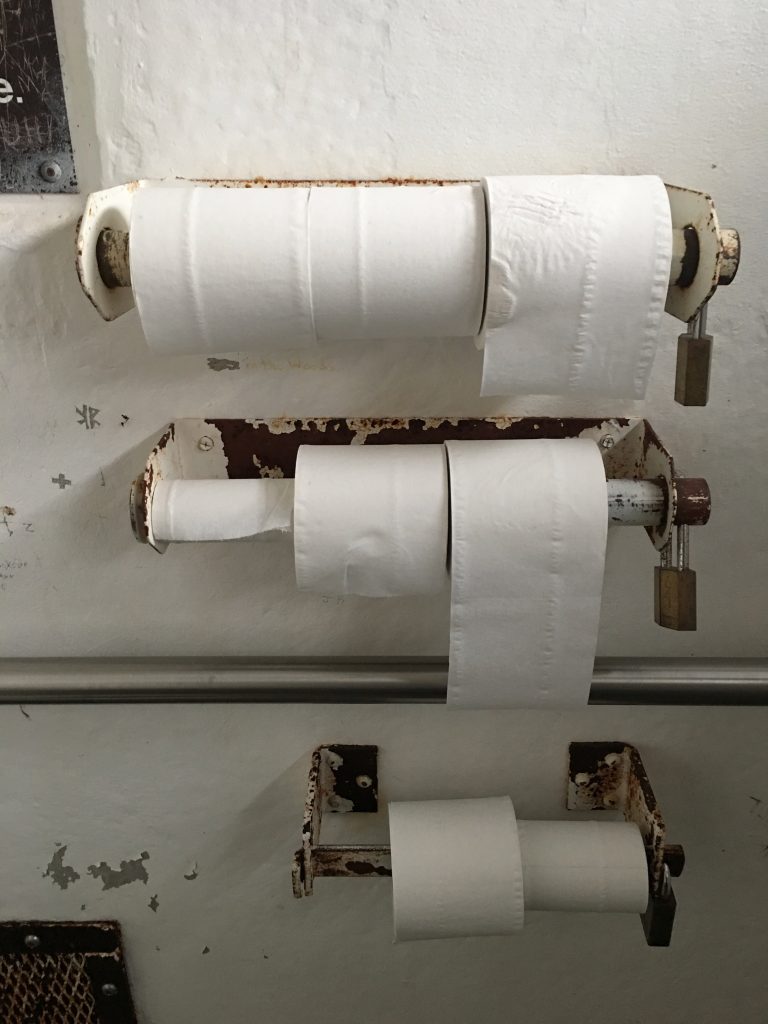 After the parking area, the climb resumes to Table Rock. I chose to skip the spur trail to the summit of Table Rock; clouds were moving in, and I was running low on daylight again, with a couple more miles to go. I'll return and treat myself to the spectacular view there on a clear day. After passing the Table Rock Summit spur trail, you start descending through the forest toward the creeks. I found a campsite near the first tributary of Buck Creek (the first water source in almost 10 miles) and stopped for the night, after another 7 mile day.
My original plan was to make it to Steels Creek at the end of day 4, with only a 4 mile climb out to the car on Friday. I was about 3 miles short of that, leaving me a long hike again on Friday, and then a 3 hour drive home. I turned in early, at about 7:30PM, and planned to get an early start on Friday.
Day 5
I awoke at 3AM, broke camp, and was hiking at 4:38AM. The first few miles down to the creek were mostly on old roadbed and most wasn't too scary by the light of my headlamp. I arrived at the first creek crossing of the day, Buck Creek, just after dawn. It was relatively shallow and I was able to rock-hop it with boots on, with no drama. You reach Steels Creek very soon after that. I hung the hammock, made breakfast, and rested for almost an hour, before packing up and starting the final climb back to my car, at around 9AM.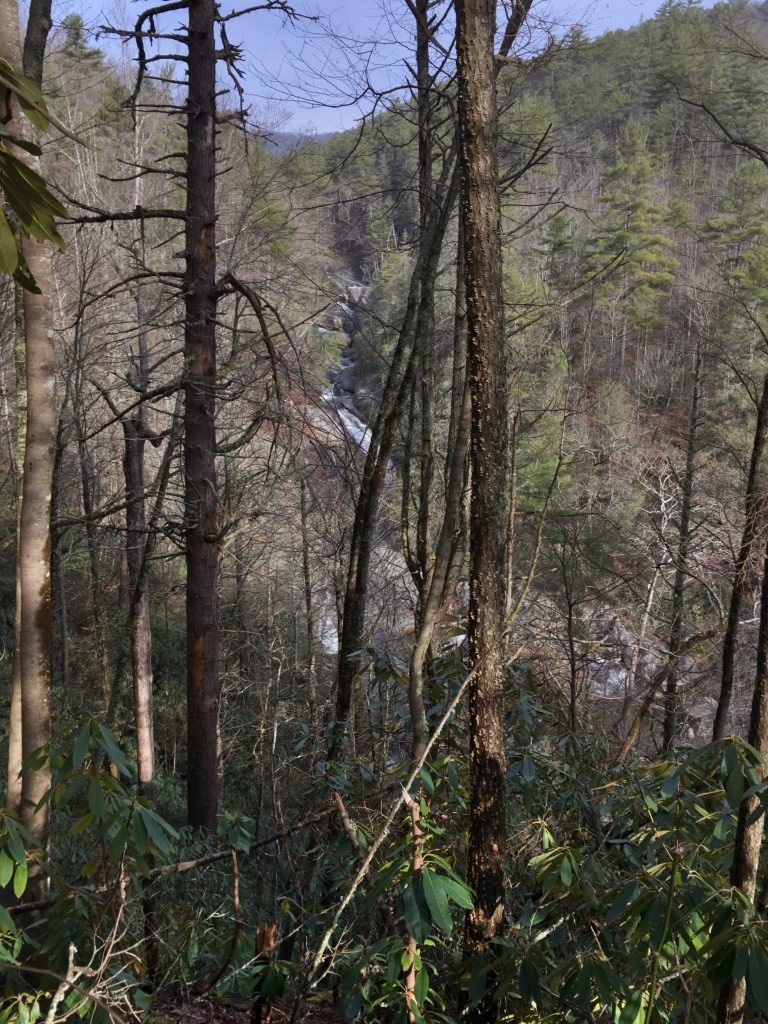 The 1.5 miles along Steels Creek is more rugged hiking, requiring some scrambling up steep sections and over boulders along the side of the creek. This is a large, high-volume creek, and there are beautiful cascades and a nice waterfall. You can see these well through the winter forest with leaves off, but there aren't great viewpoints for photos. After a very tough mile-and-a-half, the hiking gets slightly easier over old roadbeds, but does require four wading-depth creek crossings (Steels Creek twice, Gingercake Creek once, and one nameless tributary of Steels Creek). The last 1.5 miles is over maintained forest road, forever climbing, until you reach NC181. My car was still there, almost exactly four days after I left it!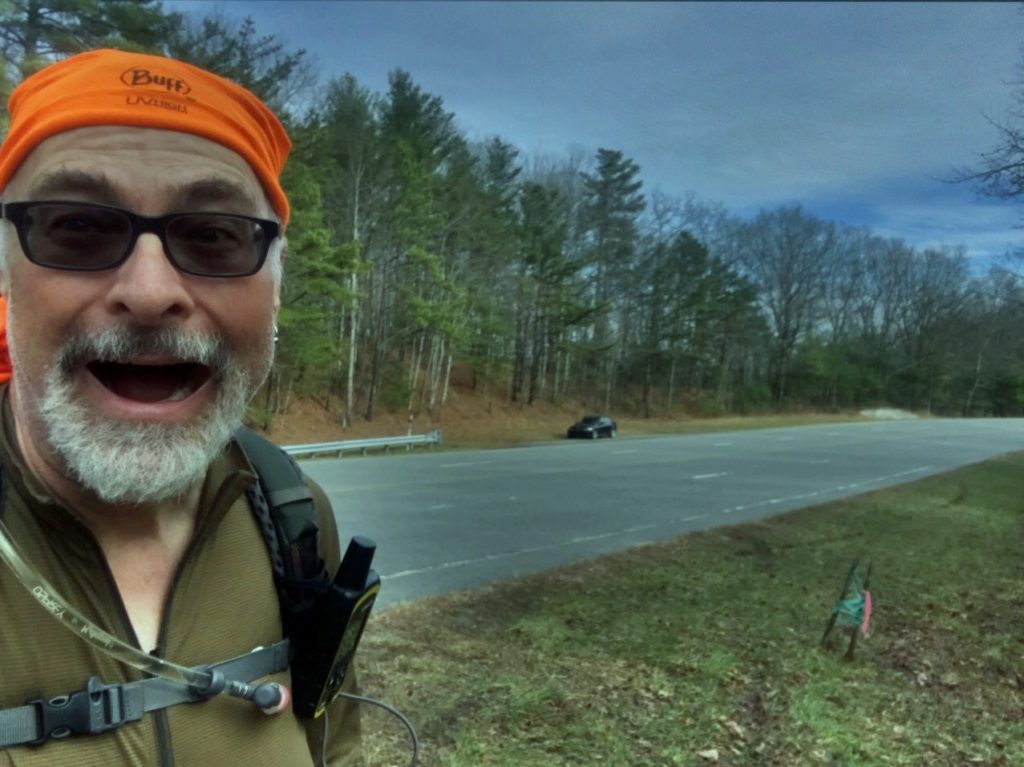 Linville Gorge: Ridiculous, In Every Way
As I later told Curt at HikeMore, this trek through Linville Gorge was ridiculous in every way. Ridiculously rugged, ridiculously cold water, ridiculously beautiful views. I climbed 11,000 feet, descended 9,500 feet, crossed one river, crossed 5 creeks, slept in near-freezing temperatures and made 100,000 steps over about 33 miles of hiking with a loaded pack. I only saw one other pair of backpackers on the trail, plus a few day hikers near Table Rock. Lots of solitude, which was a huge advantage of doing it this time of year; the Linville Trails can be quite crowded during peak season. I encourage everyone who's able to do some tough hiking, to make time for a trip in the Linville Gorge Wilderness. I'll be back, for sure.